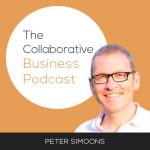 Collaborative businesses are on the rise; collaboration is both the new business model and the new competition.
The Collaborative Business Podcast is an inspirational source for business executives and entrepreneurs to provide useful insights to the best ways of working together in business-to-business collaboration.
In each episode Peter Simoons will have a conversation with guests who have built their businesses thanks to the collaborations they have established. These guests can only do what they do and be successful in their business thanks to one or more collaborations they have established.
Subscribe via iTunes
Subscribe via RSS
Subscribe on Stitcher Radio
Please leave a review and rating on iTunes.
These are the episodes that already have appeared on the Collaborative Business Podcast: