Podcast: Play in new window | Download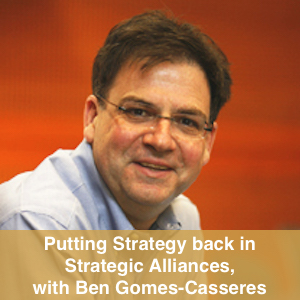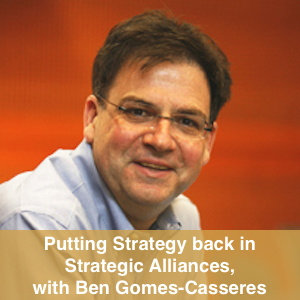 Ben Gomes-Casseres is professor of strategy at Brandeis International Business School in the Boston Area. Ben has extensive experience in working with strategic alliances and researching the topic of strategic alliances. In this episode of the Collaborative Business Podcast Ben is my guest and we talk about developments and trends Ben expects to happen in 2015 in the area of strategic alliances.
Already early on in the conversation Ben expresses his expectation for 2015; it will be the year where we put strategy back in strategic alliances. This is the theme that highlights our further conversation. Looking back to 2014 Ben uses examples of the IBM – Apple alliance, the Novartis – GSK joint venture – alliance swap and the collaboration between GE, Verizon, Cisco and Intel in the space of the Internet Of Things to lead our conversation into the developments for 2015.
What will these developments bring to companies, CEO's and their strategies? Is it time to collaborate in different ways? What has "Remix Strategy" to do with it all? Tune in to my conversation with Ben Gomes-Casseres and find out!
---
Books mentioned in this episode:
Connect with Ben Gomes-Casseres:
Website: alliancestrategy.com
LinkedIn: linkedin.com/in/bengomescasseres
Twitter: @bencasseres
Subscribe to the Collaborative Business Podcast
Subscribe via iTunes
Subscribe via RSS
Subscribe via Stitcher
Click here to leave a review on iTunes
I greatly appreciate your effort to leave a review. These reviews on iTunes help spread the message and help make more people aware of the power of collaboration!
Thank you in advance for leaving one!
---
Previously on The Collaborative Business Podcast:
Click here for a full list of previous episodes
.