Podcast: Play in new window | Download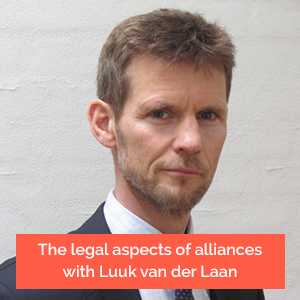 In this episode we are diving into the legal aspects of alliances. Luuk van der Laan is a Dutch lawyer who is specialized in alliances and collaborations. Luuk is an independent lawyer who works across Europe with a broad set of customers, startups, corporations and with a couple of European platforms.
Luuk is not only involved in alliances as a lawyer for his clients; law firm collaboration is important for Luuk as well and thus he created his own partnerships with other law firms. One type of his collaborations is to collaborate on projects. Another type is a more referral type of partnership which allows Luuk to offer a broader set of services to his customers than he could offer alone.
In our conversation Luuk shares how he was involved in his first alliance as one of the two lawyers who were drafting the contract for the Senseo alliance between Sara Lee and Philips. Luuk shares some of the essential elements that made the contract between the two parties such a success.
Working on alliance contracts made Luuk leave his employer and start out on his own to specialize as a legal alliance specialist.
Enjoy this episode and learn why an exit clause is essential in a legal alliance contract!
Click to tweet: "Be very clear on the objectives you have and make them explicit in the alliance contract" Luuk van der Laan
---
Mentioned in this episode:
Connect with Luuk van der Laan:
Websites: www.luukvanderlaan.eu
LinkedIn: nl.linkedin.com/in/luukvanderlaan
Subscribe to the Collaborative Business Podcast
Subscribe via iTunes
Subscribe via RSS
---
Previously on The Collaborative Business Podcast:
Click here for a full list of previous episodes
.