Podcast: Play in new window | Download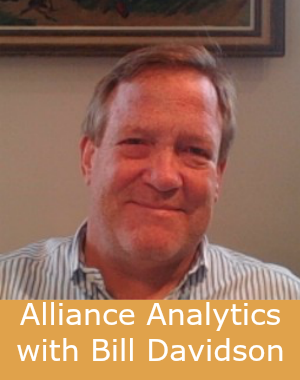 Bill Davidson was granted two US Patents for creating business intelligence, business standards and reusable knowledge for channel and alliance selection, agreement creation and partnering management that works as a fully integrated leading edge analytics and predictive score carding tool.
Bill is the CEO and founder of Alliance Analytics Software, Inc and in this episode of the Collaborative Business Podcast we explore what his alliance analytics software can do for alliances. Software that calculates the actual, numeric value for each of a company's partnerships and generates analytics and insights that can be used to adjust and make changes to a company's current year partnering programs.
This altogether spiked my interest to have Bill on the show and to find out how his software is helping out in the area of partner selection and alliance management. Tune into the video – or audio – conversation and find out!
---
Connect with Bill Davidson:
Website: allianceanalytics.com
LinkedIn: https://www.linkedin.com/in/bill-davidson-1860b11
email: bdavidson@allianceanalytics.com
Phone: +1 312 440 00581
Subscribe to the Collaborative Business Podcast
Subscribe via iTunes
Subscribe via RSS
Subscribe via Stitcher
Click here to leave a review on iTunes
I greatly appreciate your effort to leave a review. These reviews on iTunes help spread the message and help make more people aware of the power of collaboration! Thank you in advance for leaving one!
---
Previously on The Collaborative Business Podcast:
Click here for a full list of previous episodes
.