Do you want to sustain and increase your success as a leader, with your team and in collaboration with other organisations? To do so, you'll want to further develop yourself, possibly change your behavior and manage and involve your stakeholders.
Success might look like an overnight change, but in fact it is a lasting conscious journey.
You don't have to go it alone
As a successful leader you realise that going through this journey alone is not an option. Being alone is solitary and lacks the valuable input of others. Other people who will see you differently to how you see yourself.
The right Sparring Partner
Working with a coach or sparring partner on your development of alliance excellence is much like working with a guide on a journey. Your coach is independent from your organisation and committed to guiding you on your journey to greater success. Your coach will be your sounding board, your sparring partner, and will provide ideas aimed at helping you achieve your goals.
"Peter is gifted with the ability to coach executives so they can take their leadership skills to the next level. He creates a safe environment where one can openly discuss situations in which even the most experienced leader can benefit from his advice."

Andreia Gardner, Director Strategic Alliance Management & Partnering, Dermira Inc
Benefits of working with me
Working with me as your coach and sparring partner on your success journey will, amongst others, help you to:
Gain success in a less stressful way.
Improve your team performance.
Improve your personal productivity.
Offer new perspectives.
Grow your collaborative leadership capabilities.
Grow your organisation's partnering capabilities.
Grow your organisation's attractiveness as a partner of choice.
"Peter is an excellent coach. His sharp observations, and thought provoking questions, helped me in defining a purpose-driven approach to my (professional) life."

Jorge Fernandes – Innovation Executive and Strategic Advisor
My method
Every month, we'll conduct at least one online Zoom call. During that time, we'll discuss your plans, challenges and examine your progress. In between our regular calls, you'll have my unlimited email and telephone support. An engagement is always tailored to your individual situation and needs.
Stakeholder Centered Coaching
As part of the coaching engagement, it is often useful to involve your stakeholders, or the stakeholders of a specific project. This methodology is based on Marshall Goldsmith's Stakeholder Centered Coaching, This is a highly effective and time efficient methodology that will lead to a positive long-term change in your leadership behaviour.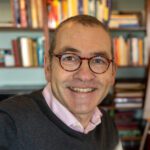 Am I the right sparring partner for you?
Your ideal sparring partner and guide on your journey is someone you trust, someone who understands your role and its challenges. Click here to schedule time with me to find out if I am the right fit for you.
About me
I've had an almost four-decade long career and during that time, I've held managerial roles with various Blue Chip companies. In 2001, I turned my focus towards alliances and took on the role of Global Client Executive Healthcare with IBM. Then, I moved into an Alliance Executive position where I was responsible for developing and managing global alliances with Royal Philips and NXP Semiconductors. In 2010 I became an Independent Alliances & Partnerships Specialist and I am still doing that today. It is my absolute passion.
My work includes one on one alliance coaching and mentoring, and teaching Alliance Masterclasses. I also perform alliance health checks and analysis, to help improve alliance performance or to blend cross-organizational alliance teams.
Coaching references
My clients included organizations such as Airbus Defence & Space, DSM, Reckitt Benckiser,  MedinCell, BioNTech, Dermira Inc, Chemelot InSciTe, Royal Philips, Micro Focus, World Waternet, Genmab, MANN+HUMMEL Group, Siemens Building Technologies, Colt Technology Services, Schlumberger, Microsoft, Cancer Research UK, World Waternet, DSM-Niaga and Maastricht University.
References are available on request.
"Working with Peter enables me lead more effectively, increasing my stakeholder and corporate influence, designing more comprehensive alliance management transformation initiatives, and building and leading successfully my team."

Head of Alliances, Global Biopharmaceutical Company