The Alliance Health Check is one of my essential services. It helps to identify possible areas for improving your alliance. It also allows for timely adjustment of the timeline of your alliance, if required.
The Alliance Health Check is best performed on the same topics on which alliance partners are selected:
Strategic value
Operational effectiveness
Cultural/relationship value
I survey these aspects through a number of questions that I pose to the participants involved in the alliance. Participants give their answers by providing scores on a scale rating 1 to 5. Respondents have the option to add their own comments. I also add a few open-ended questions, to solicit more information and to help find methods to improve further.
A Balanced Set of Participants
I recommend always to perform an Alliance Health Check with a balanced set of participants. Balanced means that the participants from both organisations' participants involved have similar functions. So, this includes those people that are working as part of the alliance as well as the managers involved too. Additionally, it's worth getting executive sponsors and those in in the finance function involved in the health check.
Anonymous & Confidential Survey
The survey of an Alliance Health Check is anonymously and is confidential. Obviously, this is paramount so that participants can share their opinions in a trusted way without worrying about confidentiality. I find this encourages genuinely honest feedback.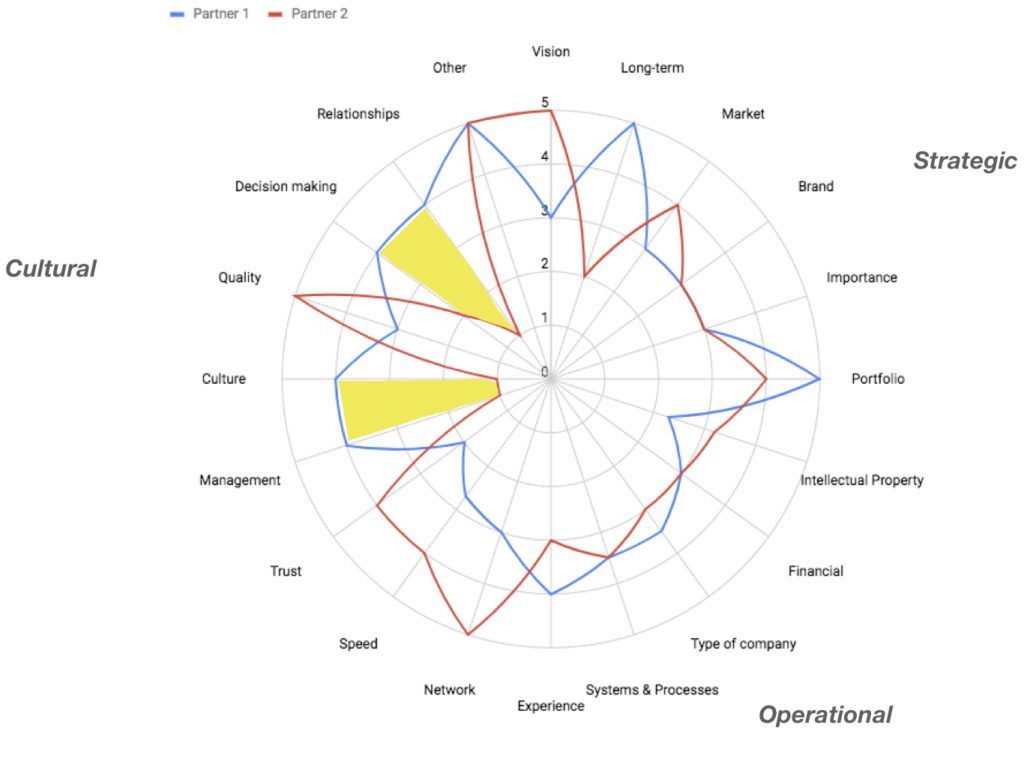 Health Check Report
Following the completion of my Alliance Health Check, the results are clearly displayed in a report which contains a diagram that highlights the differences in responses (see example).
This example displays clearly gaps in differences of opinion which is why it is a large area on the diagram. A healthy alliance will always show a difference in perception between the two organisations involved, but the gaps will be smaller.
Report Overview
My report also contains an overview of comments and suggestions as given in reply to the set of open-ended questions. Based on the responses, the report will highlight recommended areas for improvement. The overall findings will then be discussed with the alliance managers from both organisations. It will be up to the alliance managers to orchestrate the recommended actions for improvement.
Stakeholder Interviews
Stakeholder interviews are an optional part of an Alliance Health Check. These are verbal interviews that allow for more substance in feedback. They are especially recommended for alliances that are experiencing difficulties in their relationship.
Health Check Frequency
I believe that for business success, it is important to repeat Alliance Health Checks on a regular basis. In doing so, you will be able to measure the progress of improvement following the action list. Regular Health Checks also allow you to make sure your alliance is working as it should be. Obviously, it depends on the type of alliance you have and the dynamics of your alliance as to how often you should repeat your Health Check. As an example, for alliances that operate at a high speed or have a large turnover of personnel, I would suggest frequent Health Checks. For more stable alliances or those with a low turnover of personnel, a Health Check conducted once a year is sufficient.
Health Check Flow
A typical Health Check takes a couple of weeks to conduct. To view the process of a Health Check, take a look at the outline of activity below.
1 – Preparation
Question preparation is carried out by Simoons & Company. We will consult with the alliance managers from both partner organisations involved in the Health Check to determine an approved final set of questions. We'll then setup the survey and perform the survey.
2 – Performing the Survey
3 – Reporting and Feedback
Find out what an Alliance Health Check could do for your organisation
Schedule a no-strings attached call with me to explore what an alliance health check could mean for your alliances.