Podcast: Play in new window | Download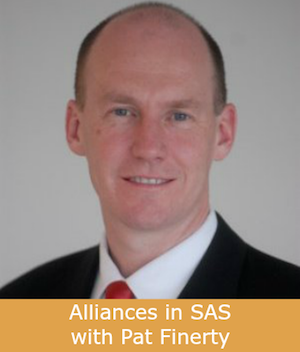 How do you handle different type of alliances: large, small, global, local? In this conversation with Pat Finerty are we exploring how Pat handles these differences in SAS Canada.
Pat Finerty is the Vice President of Alliances and Business Development for SAS Canada. Pat is responsible for relationships with business partners and the development of new approaches to market to foster the Canadian subsidiary's long-term growth.
SAS is the leader in analytics. Through innovative analytics, business intelligence and data management software and services, SAS helps customers at more than 75,000 sites make better decisions faster. Since 1976, SAS has been giving customers around the world THE POWER TO KNOW®.
Pat is responsible for all partner relationships for SAS in Canada. His responsibilities also include the key product and partnership initiatives across the Americas – including representing the field sales organization to SAS' Partnership with SAP and Accenture.
In our conversation we explore what it means to run such a diverse set of partnerships and how local partnerships are different from global partnerships. Pat also highlights what SAS does to attract the young generations into the company and into alliance roles.
---
Books mentioned in this episode:
Connect with Pat Finerty:
Website: sas.com/canada
LinkedIn: https://ca.linkedin.com/pub/pat-finerty/3/788/835
Twitter: @pfinerty
Subscribe to the Collaborative Business Podcast
Subscribe via iTunes
Subscribe via RSS
Subscribe via Stitcher
Click here to leave a review on iTunes
I greatly appreciate your effort to leave a review. These reviews on iTunes help spread the message and help make more people aware of the power of collaboration! Thank you in advance for leaving one!
---
Previously on The Collaborative Business Podcast:
Click here for a full list of previous episodes
.