Podcast: Play in new window | Download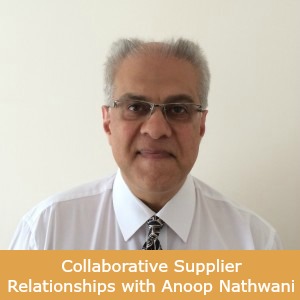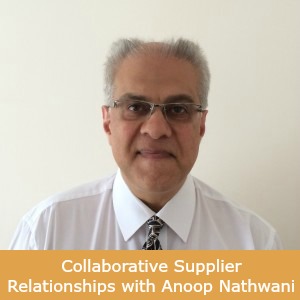 Does your relationship with your customer or supplier change? Does it seem to transform from a transactional driven to a more collaborative relationship where traditional boundaries seem to blur and different elements come in to play? Then this conversation is one for you to tune in to.
Recently I had a few conversations with my colleague Anoop Nathwani about a development we both notice. A development of a rising interest in collaborative supplier relationships. In other words customer – supplier relationships that are moving from the pure transactional driven relationship into a relationship where both parties start to collaborate more.
That is the topic we are exploring in this conversation in the Collaborative Business Podcast and, as we mention in our conversation, we invite you to join this conversation through the comments section below: What is your experience in transforming your transactional supplier or customer relationships into collaborative relationships? Both Anoop and myself will monitor the comments and chime in to your questions.
About Anoop Nathwani
Anoop Nathwani is a Senior Alliance Development Professional with extensive experience in driving and delivering ground breaking corporate business development initiatives through the establishment & development of global strategic alliances in several vertical industry sectors at both the strategy and execution level.
Before starting his own consultancy Anoop built his experience in the corporate world in alliance management and supplier relationship management. One of his last corporate projects was in Nokia to drive in the procurement department the transformation of transactional driven supplier relations into collaborative supplier relationships.
Anoop is the President of the Association of Strategic Alliances Professionals UK (ASAP UK), Partner at Tenego and the Founder and Managing Partner of Consortio Consulting Ltd.
---
Connect with Anoop Nathwani:
Website: http://consortioconsulting.com
LinkedIn: http://uk.linkedin.com/in/anoopnathwani
email: anoop@consortioconsulting.com
Twitter: @anoop_consortio
Subscribe to the Collaborative Business Podcast
Subscribe via iTunes
Subscribe via RSS
Subscribe via Stitcher
Click here to leave a review on iTunes
I greatly appreciate your effort to leave a review. These reviews on iTunes help spread the message and help make more people aware of the power of collaboration! Thank you in advance for leaving one!
---
Previously on The Collaborative Business Podcast:
Click here for a full list of previous episodes
.