Podcast: Play in new window | Download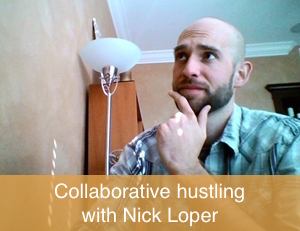 My guest today in the collaborative business podcast is Nick Loper, who – as he describes himself – helps people earn money outside of their day job. To do so he runs a blog and a podcast to build a community. In the podcast, Nick shares successes and failures of fellow "side hustlers" in his work.
In today's episode we are discussing the lessons Nick learned during his seven years of entrepreneurship; how he works with partners, how he outsources to virtual assistants for continuous collaboration and how he outsources smaller – one of a kind type of – tasks to other people.
Tune in to hear Nick share his experiences, some that went well and some that failed.
---
Books mentioned in this episode:
Connect with Nick Loper:
Website: sidehustlenation.com
Twitter: @nloper
Subscribe to the Collaborative Business Podcast
Subscribe via iTunes
Subscribe via RSS
Subscribe via Stitcher
Click here to leave a review on iTunes
I greatly appreciate your effort to leave a review. These reviews on iTunes help spread the message and help make more people aware of the power of collaboration! Thank you in advance for leaving one!
---
Previously on The Collaborative Business Podcast:
Click here for a full list of previous episodes
.