Podcast: Play in new window | Download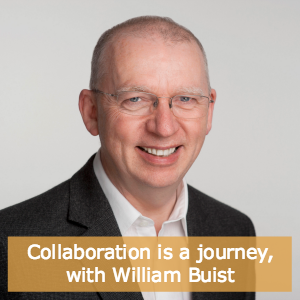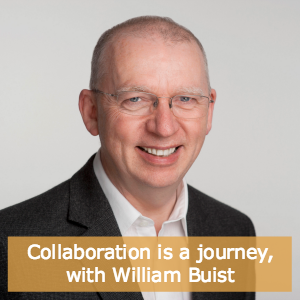 William Buist is the owner of the company Abelard, that he describes as a collaborative consultancy. The prime role of Abelard is to help business owners and directors to develop and grow their business to get real clarity about their business and with whom they need to be working. From that perspective William is working closely in collaboration with his clients to ensure the best joint results.
William describes business collaboration as a step on a journey; the step where you become conscious that you need to do things a little different than the way you do them today. That journey has several stages that start with consciousness, followed by conversation, cooperation and finally collaboration. When you and I collaborate, collaboration helps us, as partners, to get to our combined goals and create true synergy.
In our conversation William shares an example of a small business collaboration he established with Leadership Coach Bev Hamilton. Where Bev concentrates on the personal aspects, William concentrates on the business aspects. Together they offer their clients insights that cannot be offered alone.
Tune in to hear my conversation with William and please share your thoughts in the comments below!
---
Books mentioned in this episode:
Connect with William Buist:
Website: abelard-uk.com
LinkedIn: uk.linkedin.com/in/wbuist
Twitter: @WilliamBuist
Subscribe to the Collaborative Business Podcast
Subscribe via iTunes
Subscribe via RSS
Subscribe via Stitcher
Click here to leave a review on iTunes
I greatly appreciate your effort to leave a review. These reviews on iTunes help spread the message and help make more people aware of the power of collaboration! Thank you in advance for leaving one!
---
Previously on The Collaborative Business Podcast:
Click here for a full list of previous episodes
.