Podcast: Play in new window | Download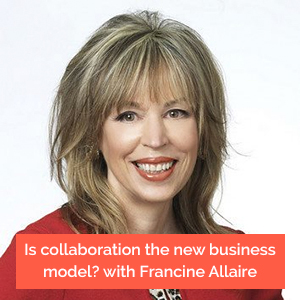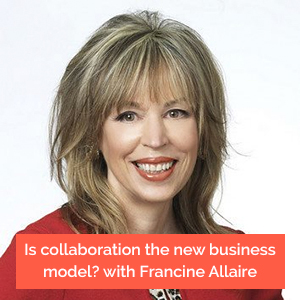 Francine Allaire spent most of her career in sales and partner development positions working for global companies in high tech and in consulting. Francine uses social media quite actively as a communication and marketing channel. In 2010 Francine was named by Forbes as one of the top 20 most influential women on Twitter for marketing, business and technology advice.
Actually it is through Twitter that Francine and I first met a few years ago.
In our conversation we discuss partnerships and alliances and we dive deeper into collaboration of all kinds. Francine highlights why she is convinced that collaboration is the new workplace business model. She goes so far as to say that in light of what she calls the 'new normal' in business, effective collaboration is essential to how well an organization (big or small) will perform over time. That includes internal collaboration across functional teams, departments or business units, as well as external collaboration with potential partners, contractors, suppliers, customers, and even at times with competitors.
Francine shares her 6 critical success factors she looks for in any type of collaboration:
1. The Likeability Factor – Having great chemistry. People do business with people they like and trust. You need to genuinely like and respect your partner.
2. The Compatibility Factor – Do you have similar values, culture, market footprint, marketing style…? Compatibility is extremely important as it brings a level of understanding, acceptance and velocity.
3. The Complementary Factor – A company/individual cannot be skilled at everything; each one has its special excellence. In a partnership you need to complement each other in terms of strengths, capabilities and competencies.
4. The Commonality Factor – Vision/Goals/Expectations
A shared vision/goal is the foundation for all partnerships – when a partnership fails the root cause is often because people were pursuing different agendas or had different expectations.
5. The Trust Factor – Trust is like the rope between mountaineers on a snowy ledge! Trust is the linchpin in any partnership, no trust means no partnership! Never ever partner with people you cannot trust.
6. The Communication Factor – In the early stages of a partnership, communicating helps to prevent misunderstandings and to assure each side of the other's trustworthiness. Later in the relationship, a continuous flow of information makes the work more efficient by keeping the two partners synchronized.
Enjoy this episode and learn about more useful tips for establishing successful collaborations that Francine shares with us!
Click to tweet: Trust is the linchpin in any partnership, no trust no partnership! @francineallaire
---
Books mentioned in this episode:
Connect with Francine Allaire:
Websites: RevenueAccelerationStrategies.com
Twitter: @francineallaire
LinkedIn: www.linkedin.com/in/francineallaire/
Subscribe to the Collaborative Business Podcast
Subscribe via iTunes
Subscribe via RSS
---
Previously on The Collaborative Business Podcast:
Click here for a full list of previous episodes
.