Podcast: Play in new window | Download
Erlend Bakke is an entrepreneur, owner of three companies and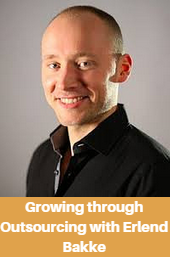 author of the 1# International Bestseller 'Never Work Again'. With Erlend, we are diving into a different aspect of collaboration: the aspect of outsourcing parts of your business to make it grow faster and allow you as a business owner to focus yourself on your strengths.
Erlend Bakke learned the need for outsourcing the hard way himself. After working for 36 hours without sleep on a project, he realized that there must be better ways to run the business. Erlend then not only started to outsource parts of his business, he also build an outsourcing business in the Philippines to make it easy for entrepreneurs to outsource parts of their business.
In this conversation with Erlend, we're diving into the aspects of outsourcing in general and outsourcing to build a business and also the aspects of collaborating with a team at a distance and in a different time zone.
---
Books mentioned in this episode:
Connect with Erlend Bakke:
Website: erlendbakke.com
Website: mroutsource.com
Twitter: @erlendbakke
Subscribe to the Collaborative Business Podcast
Subscribe via iTunes
Subscribe via RSS
Subscribe via Stitcher
Click here to leave a review on iTunes
I greatly appreciate your effort to leave a review. These reviews on iTunes help spread the message and help make more people aware of the power of collaboration! Thank you in advance for leaving one!
---
Previously on The Collaborative Business Podcast:
Click here for a full list of previous episodes
.