Podcast: Play in new window | Download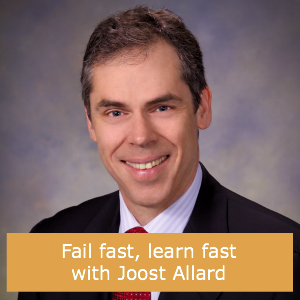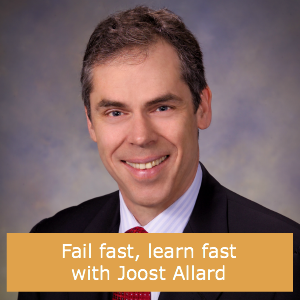 It feels that every 10th episode in the Collaborative Business Podcast series is somehow a milestone, comparable to reaching a new decennium in birthdays.
Today's episode is episode 30 and my guest is fellow Dutchman Joost Allard.
Joost left the Netherlands many years ago and now lives and works in the USA. In this episode Joost shares with us how he worked in corporate environments in alliances and how he got early on involved in an alliance the Nasdaq was establishing with an European stock exchange. Nowadays Joost is an independent entrepreneur bringing his experience to other areas.
One of the most recent involvements and interests that Joost shares is the way Lean startup principles can be applied to enhance the success rate of alliance initiatives. From that perspective Joost coins the term "fail fast, learn fast" and explains how that can be applied to alliances.
---
Books mentioned in this episode:
Connect with Joost Allard:
Website & blog: Allinnova.com
LinkedIn: http://www.linkedin.com/in/joostallard
Twitter: @allinnova
Subscribe to the Collaborative Business Podcast
Subscribe via iTunes
Subscribe via RSS
Subscribe via Stitcher
Click here to leave a review on iTunes
I greatly appreciate your effort to leave a review. These reviews on iTunes help spread the message and help make more people aware of the power of collaboration! Thank you in advance for leaving one!
---
Previously on The Collaborative Business Podcast:
Click here for a full list of previous episodes
.