Podcast: Play in new window | Download
Click here to subscribe via iTunes
Today I am happy to announce the publishing of the first episode of "The Collaborative Business Podcast".
In this bi-weekly audio show, I have conversations with experts in the field of collaboration and with business owners and entrepreneurs who have built their businesses thanks to collaborations. The show aims to be an inspirational source for the listeners to provide useful insights to the best ways of working together in business-to-business collaboration.
As Anoop Nathwani, my guest in this first episode, concludes:
"Collaboration is the new competition; those companies that do not collaborate with their suppliers, partners, etc. the way they need to collaborate, will be left behind. If you are not doing it already, start doing it."
I couldn't have phrased it better myself: that is the reason for this podcast. Collaboration is the new competition, yet there is still so much to learn about collaboration. It is my intention in this podcast to highlight many types of business collaboration. These can be strategic alliances between large organizations, partnerships or joint ventures between smaller organizations, outsourcing for solo entrepreneurs and any other type of business-to-business collaboration. I realize that this is quite a broad field that I intend to cover. I expect that over time we will see that there are many similarities to discover in how the companies along the spectrum deal with their different kind of partnerships.
The podcast will start off with a bi-weekly show, potentially turning into a weekly podcast in the future. Every episode will be around 30 minutes long. Just enough time for your morning run or your daily commute and for every episode the show notes will be posted here in the blog.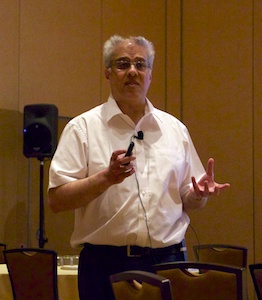 As said, in this first episode I talk to my friend and colleague Anoop Nathwani and we will dive into collaboration among strategic supplier relationships and among strategic alliances and we discover the similarities between the two.
Here are the highlights of this episode
What are strategic supplier relationships?
How do they differ from traditional procurement relationships?
How do they compare to strategic alliance relationships?
What should a procurement department do different to turn relationships into collaborative relationships?
What should a supplier do different to work in collaborative relationships with a customer?
We discuss the parallels with strategic alliances
Connect with Anoop:
Download a full transcript of this episode here!
Click here to subscribe via iTunes
Click here to subscribe via RSS
Please leave a short review on iTunes, it will help for the podcast's rankings and improvement.
What did you think of this first episode of The Collaborative Business Podcast? Please let me know in the comments below. If you have any suggestions for future guests, then please leave them in the comments too.