Podcast: Play in new window | Download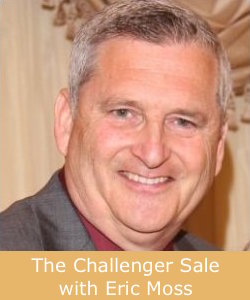 Eric Moss is an Alliance and Partner professional with a specialty in solution development and Go-to-Market (GTM) relationships between technology firms and Systems Integrators (SI's). Based in the San Francisco Bay area Eric has worked in his career with many of the leading technology firms. His specialty shows clearly in our conversation.
I was triggered by a post on LinkedIn, written by Eric, about the Challenger Sale for partners. At that time I had just read the book "The Challenger Sale" myself and I had seen the comparison between the successful sales professionals of the challenger type and alliance professionals.
So I invited Eric to be my guest in the Collaborative Business Podcast and have a conversation about challenger sale and strategic alliances. That is the topic of my conversation in this episode with Eric Moss: Eric explains what the Challenger Sale is and we explore how it applies to strategic alliances.
---
Books mentioned in this episode:
Connect with Eric Moss:
LinkedIn: https://www.linkedin.com/in/ericmoss4valuethroughalliances
email: voxover@gmail.com
Subscribe to the Collaborative Business Podcast
Subscribe via iTunes
Subscribe via RSS
Subscribe via Stitcher
Click here to leave a review on iTunes
I greatly appreciate your effort to leave a review. These reviews on iTunes help spread the message and help make more people aware of the power of collaboration! Thank you in advance for leaving one!
---
Previously on The Collaborative Business Podcast:
Click here for a full list of previous episodes
.