Podcast: Play in new window | Download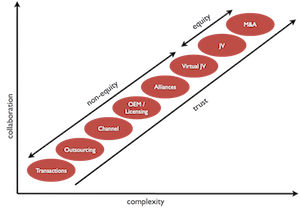 This episode of 'The Collaborative Business Podcast' is a solo episode where I  talk you through the collaborative business spectrum. This spectrum covers the full area of collaborative businesses. Hence it is the spectrum where my guests in 'The Collaborative Business Podcast' are active in.
While I am talking about the collaborative business spectrum it might be useful for you to download the spectrum to view it while listening. Click here to view a full size spectrum image.
The highlights of this weeks episode are:
What is in the collaborative business spectrum
Why do companies enter into strategic alliances
You will hear a number of examples of collaborative business relationships
Download a full transcript of this episode here!
Click here to subscribe via iTunes
Click here to subscribe via RSS
Please leave a short review on iTunes, it will help the podcast's rankings and it will help with improvement.
What did you think of this episode of The Collaborative Business Podcast? Please let me know in the comments below. If you have any suggestions for future guests, then please leave them in the comments as well.