Podcast: Play in new window | Download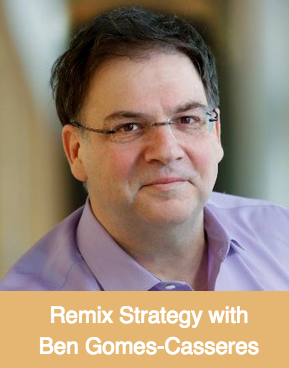 Ben Gomes-Casseres works on strategy, with a special focus on business combinations. He has researched this topic for 30 years, taught it to MBAs and executives, and consulted with major companies in the US and abroad. He is best known for his work on alliance strategy. Ben currently is a professor at Brandeis University, where he directs the Asper Center for Global Entrepreneurship.
REMIX STRATEGY is Ben's latest book where he presents three laws that provide a powerful, systematic approach for creating and capturing value from business combinations of all sorts:
First law: The value created by the combination should exceed the total value that would be generated by the players acting alone. The first law asks these practical questions: How much more value can we create in the market together? What specific resources must we combine to create this value?
Second law: The combination must be designed and managed to realize this joint value. Which partners and structures fit this goal best? How do we manage the risk and uncertainty inherent in such combinations?
Third law: Each participant must earn a return sufficient to justify the investment. How do we divide the joint value created? How will value be shared over time?
In my conversation with Ben we dive into REMIX STRATEGY and the three laws. Ben uses the possibilities of video to not only tell about the laws, but also to make them tangible visible.
---
Books mentioned in this episode:
Connect with: Ben Gomes-Casseres
Website: Remix Strategy
LinkedIn: http://www.linkedin.com/in/bengomescasseres
Twitter: @bencasseres
Subscribe to the Collaborative Business Podcast
Subscribe via iTunes
Subscribe via RSS
Subscribe via Stitcher
Click here to leave a review on iTunes
I greatly appreciate your effort to leave a review. These reviews on iTunes help spread the message and help make more people aware of the power of collaboration! Thank you in advance for leaving one!
---
Previously on The Collaborative Business Podcast:
Click here for a full list of previous episodes
.