Podcast: Play in new window | Download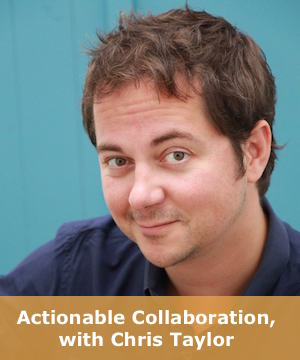 Chris Taylor describes himself as a digital nomad entrepreneur. Chris lives in Panama, Spain and Canada, while running his business Actionable Books with a team of people who are also globally dispersed.
This can only work with a high degree of collaboration, hence I invited Chris to be my guest in the podcast to explore where and what type of business collaboration enables Chris to do what he does.
This conversation with Chris turned into a lively conversation about collaboration within a team and how trust and transparency plays an important role within collaboration. We talked about books and how the Actionable Books summaries can be applied into your work.
If you are interested in becoming a part of the Actionable Bookclub, check this link! Be aware that the application process for this cycle closes on Friday November 28.
Now, tune in to the great conversation I had with Chris Taylor!
---
Books mentioned in this episode:
Connect with Chris Taylor:
Website: actionablebooks.com
email: chris@actionabooks.com
Twitter: @actionablechris
Subscribe to the Collaborative Business Podcast
Subscribe via iTunes
Subscribe via RSS
Subscribe via Stitcher
Click here to leave a review on iTunes
I greatly appreciate your effort to leave a review. These reviews on iTunes help spread the message and help make more people aware of the power of collaboration! Thank you in advance for leaving one!
---
Previously on The Collaborative Business Podcast:
Click here for a full list of previous episodes
.