Podcast: Play in new window | Download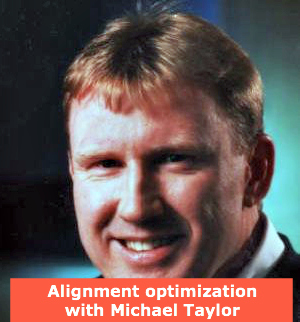 Alignment is an essential element for success in any type of business collaboration. However, alignment is an abstract concept that is somehow difficult to comprehend. People often approach it in a closed way: we are aligned or we are not.
Michael Taylor is one of the founders of SchellingPoint. SchellingPoint provides a tool for measuring the degree of alignment before, during, and after any collaborative effort involving two or more individuals – providing a mathematical calculation of their like-mindedness, and highlighting the potential problem areas where their interests diverge.
In the conversation with Michael we are exploring alignment optimization for business collaborations. In Today's episode you will hear why it is important to understand where we are aligned and where are not (yet) aligned and how we can measure that to improve alignment and increase the success rates of our business collaborations.
Question: Are you consciously working on alignment in your business collaborations?
---
Books mentioned in this episode:
Connect with Michael Taylor:
Websites: Schellingpoint.com
Twitter: @mtayloruk
Subscribe to the Collaborative Business Podcast
Subscribe via iTunes
Subscribe via RSS
---
Previously on The Collaborative Business Podcast:
Click here for a full list of previous episodes
.