Podcast: Play in new window | Download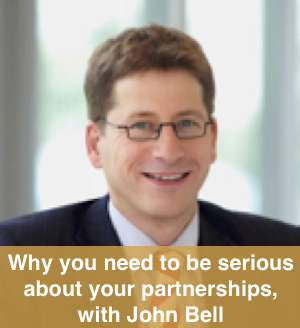 John Bell is a professor of strategic alliances at the Tilburg University in the Netherlands. John focusses in his work on cooperation and the strategy for companies and the competences for strategic alliances. Next to that John is responsible for strategy and business development in Philips Research, where alliances and open innovation are two important elements of John's work.
Like in the previous episodes I am looking ahead with John into 2015 and strategic alliances. John shares his view and not surprisingly we will hear from John how he feels about companies starting to understand that if they want to achieve something, they really need to work together. Real breakthroughs will need collaboration. The time that a few companies could dominate a market is over; collaboration is necessary to move forward.
Most companies will see the need for collaboration, but still struggle in making partnerships successful. Hence they avoid them; this is what John sees as a big risk. Being serious about alliances and partnerships by building up the competences is essential and a no-brainer with an easy return on investment. Making one person, partly, available will help companies create successful alliances which can result in millions of returns in successful partnerships. Thus the capability to create successful partnerships might become the distinguishing factor for companies in the near future.
Tune in below to listen to my conversation with John Bell or to enjoy the first time we share this episode also in video!
---
Mentioned in this episode:
Connect with John Bell:
LinkedIn: linkedin.com/pub/john-bell/1/79/a33/en
Subscribe to the Collaborative Business Podcast
Subscribe via iTunes
Subscribe via RSS
Subscribe via Stitcher
Click here to leave a review on iTunes
I greatly appreciate your effort to leave a review. These reviews on iTunes help spread the message and help make more people aware of the power of collaboration! Thank you in advance for leaving one!
---
Previously on The Collaborative Business Podcast:
Click here for a full list of previous episodes
.