Podcast: Play in new window | Download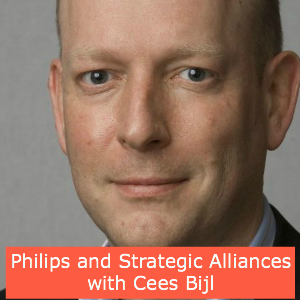 Business collaborations exist in all kind of flavors. Today we are entering the world of strategic alliances in multinationals with Cees Bijl, who is the head of strategic alliances and the head of emerging business areas at Philips. As you may know Royal Philips is a multi national headquartered in Amsterdam, the Netherlands and is a diversified technology company, focused on improving people's lives through meaningful innovation in the areas of Healthcare, Consumer Lifestyle and Lighting.
Strategic Alliances are of increasing importance to Philips. The changing industries in lighting and healthcare ask for companies who are able to operate in ecosystems. Working in ecosystems is not new to Philips. Having been a driver in setting the standards for the CD player and the blue ray systems, Philips has always been quite active in working in ecosystems. Now, the shift will be from consumer products to professional products.
As you will hear from Cees, many of the products that Philips brings to the market are based upon strategic alliances. Some of them well known examples in the consumer domain, like the Senseo coffee maker, some of them to a lesser extend known in the business to business domain, like the alliance with Somfi that Cees highlights in our conversation.
Together with his team Cees has his focus on creating the best alliances that contribute to the Philips brand promise to improve people's lives through meaningful innovation.
---
Books mentioned in this episode:
Connect with Cees Bijl:
Website: philips.com
LinkedIn: http://nl.linkedin.com/pub/cees-bijl/0/606/491
Subscribe to the Collaborative Business Podcast
Subscribe via iTunes
Subscribe via RSS
Subscribe via Stitcher
Click here to leave a review on iTunes
I greatly appreciate your effort to leave a review. These reviews on iTunes help spread the message and help make more people aware of the power of collaboration!
Thank you in advance for leaving one!
---
Previously on The Collaborative Business Podcast:
Click here for a full list of previous episodes
.