Podcast: Play in new window | Download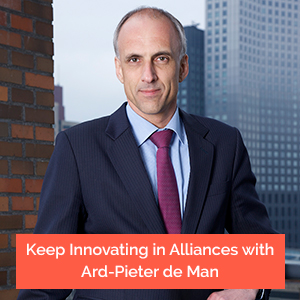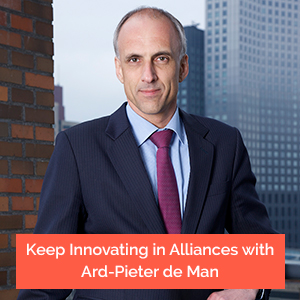 There are already many books available on the topic of strategic alliances, but still just recently Ard-Pieter de Man's new book "Alliances: An Executive Guide to Designing Successful Strategic Partnerships" was released. Before driving to the office of Ard-Pieter de Man to interview him for this episode of the Collaborative Business Podcast, I looked into my bookshelf and counted 17 books about alliances. So one of the questions I asked Ard-Pieter is his reasoning to write this new book.
Ard-Pieter explains how he built his book around actual cases and how he used those cases to explain the different types of alliances that are possible. You can use the book as a reference book and as kind of a handbook that step by step will teach you how to design an alliance.
In our conversation Ard-Pieter highlights two alliances: the KLM – Air France, Alitalia and Delta alliances and the Metro Future Store alliance. Also in this interview Ard-Pieter shares what new insights writing the book brought him.
Enjoy this episode and the lessons shared by Ard-Pieter!
On February 25 the Association of Strategic Alliance Professionals will organize a "meet the author" session with Ard-Pieter de Man about his new book. This session will take place in Utrecht, the Netherlands.
Click to tweet: "The simpler you can make the alliance business model the better it is @ardpieterdeman"
---
Books mentioned in this episode:
Connect with Ard-Pieter de Man
Twitter: @ardpieterdeman
Website: http://www.sioo.nl
Subscribe to the podcast