Podcast: Play in new window | Download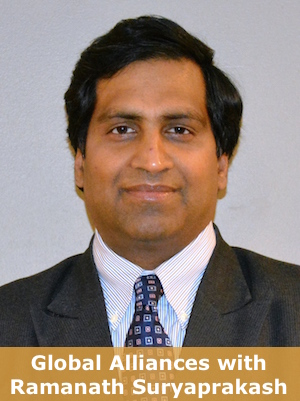 In this episode of the Collaborative Business Podcast I am in conversation with Ramanath Suryaprakash, who is a Global Alliance Manager at Infosys. Ram is based in Seattle and works from there with 10 to 15 alliance partners who are located across the globe and often, like Infosys, also work across the globe.
Working in global alliances brings additional dimensions of timezones and cultures to the alliance management process. We dive into that topic and we discuss how Ram deals with that.
Ram is very focussed on always creating Win-Win Partnerships that generate business impact to the joint customers. You will also notice that Ram is a strong proponent of having the right executive support, otherwise an alliance will not succeed. Two key components for successful alliances.
Tune into the conversation with Ram through the audio only version or watch the video version of this episode below.
---
Books mentioned in this episode:
Connect with Ram:
Subscribe to the Collaborative Business Podcast
Subscribe via iTunes
Subscribe via RSS
Subscribe via Stitcher
Click here to leave a review on iTunes
I greatly appreciate your effort to leave a review. These reviews on iTunes help spread the message and help make more people aware of the power of collaboration! Thank you in advance for leaving one!
---
Previously on The Collaborative Business Podcast:
Click here for a full list of previous episodes
.