Podcast: Play in new window | Download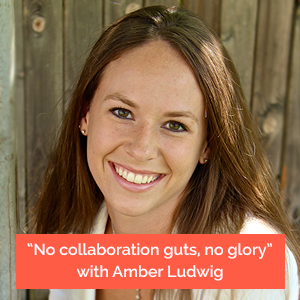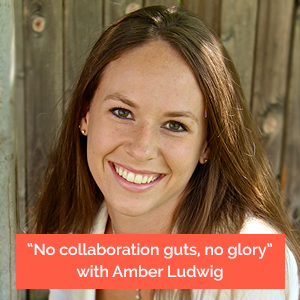 Amber Ludwig-Vilhauer helps authors, speakers and coaches build their business online. She brought her experience together into the company with the great name "Nog Guts No Glory".
For Amber business collaboration is in the simplest form two people working together towards a common goal. In the podcast Amber shares how she started her own business based upon collaboration in working with others to grow the company through referral sales. A second example of collaboration that Amber shares is how she helps multi-author books become best sellers on Amazon.
The third example mentioned by Amber is the Authentic Business Success Summit where she brought 15 hours of interviews with successful entrepreneurs together.
Amber shares how important collaboration is for business in general and for her business in particular. When you are collaborating, you feel that you are part of something bigger than just yourself.
Amber found a very special way to invite her collaborators to participate in the Authentic Business Success Summit, and she shares this with you in the podcast (after gently correcting me mixing up Part Flynn and John Lee Dumas).
Click to tweet: "Collaboration: Don't put all of your eggs in one basket – @amberludwig"
---
Books mentioned in this episode:
Connect with Amber Ludwig-Vilhauer:
Websites: Authentic Business Success Summit and amberludwig.com
Twitter: @amberludwig
Subscribe to the Collaborative Business Podcast
Subscribe via iTunes
Subscribe via RSS
---
Previously on The Collaborative Business Podcast:
Click here for a full list of previous episodes
.