Podcast: Play in new window | Download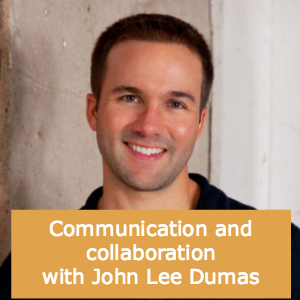 John Lee Dumas is a professional podcaster who runs a business around his podcast "Entrepreneur on Fire".
This podcast features daily interviews with entrepreneurs and since the start of his business John already interviewed over 564 entrepreneurs.
Tune in to episode 24 to hear John explain how he established a core team that closely collaborates and how essential communication is as an enabler for that collaboration.
John was taught how to collaborate in the army, where collaboration and communication went hand in glove as the two essential elements to succeed and stay alive. That army practice has now been implemented in his business: it is the essential ingredient for his business success.
---
Sponsors for this episode
The 2nd Strategic Alliances and Joint Ventures Forum – May 19 & 20 in London
Books mentioned in this episode:
Interview links
Entrepreneur on fire monthly income report
Connect with John Lee Dumas:
Website: entrepreneuronfire.com
Twitter: @johnleedumas
Subscribe to the Collaborative Business Podcast
Subscribe via iTunes
Subscribe via RSS
Subscribe via Stitcher
Click here to leave a review on iTunes
I greatly appreciate your effort to leave a review. These reviews on iTunes help spread the message and help make more people aware of the power of collaboration! Thank you in advance for leaving one!
---
Previously on The Collaborative Business Podcast:
Click here for a full list of previous episodes
.