Podcast: Play in new window | Download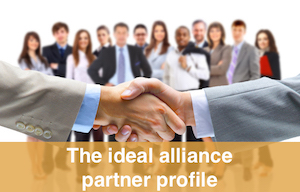 In last weeks episode we looked at a the Alliance Value Proposition, an important element when working together in strategic alliances. This week let's have a look at another important element: finding the right alliance partner.
Often proper partner selection is an overlooked element. People start a partnership purely based on the fact that they like each other or on the fact that the partner has the missing element for the value proposition you have in mind.
However people and companies are different and can act different. As such it is a good practice to do a solid partner assessment. Not necessarily to decline a partner, but at least to know where your partner deviates from your company and what as such the points of attention are during your management phase of the alliance.
In general we do an alliance partner fit analysis on three areas: Strategic Fit, Operational Fit and Relationship fit. In my book "The 4-step guide to successful partner selection" I dril this down into 17 elements that you should look into. These 17 elements are:
1) Vision
Is it important for the partnership you are creating that the vision of your alliance partner aligns with your vision?
In general it is essential to have the vision of you and your prospective alliance partner in line with each other. They do not have to be the same, but they need to be complementary. Let's say you are teaming in in the automobile engine industry: your partner's vision is that the future is in hydrogen base fuel cells, while your vision is that the future is in electric engines. This might be a showstopper and is exactly one of the reasons that made the partnership between Toyota and Tesla stall.
2) Long term
What are the long-term goals of your alliance partner and are they in line with yours?
Similar to vision the long-term goals need to be evaluated to see if they are in line. If you are entering the partnership with the goal to create a long lasting partnership, but your potential partner is planning to create a project driven partnership that lasts only a couple of quarters than think again.
3) Financial
Is your alliance partner financially healthy and can it be expected that they will be around for the duration of the partnership?
You would like to be sure that your partner would be around for the duration of the partnership. For the stability of the partnership it is important to assess the partner's financial health and stability. If a partner has a rocky cash flow pattern it might hurt the ability to create a stable partnership whenever the partner is unable to invest or act when needed.
4) Market
How does the market coverage of your alliance partner align with yours? To what extend are they complementary?
When establishing a market development alliance, the capabilities of the partner need to be complementary with yours. For instance when you own the product knowledge and the partner the knowledge on how to access a new geographical market, the market coverage is complementary. This element may be irrelevant when establishing an R&D alliance where joint development is undertaken, yet without a desire to bring it to specific markets.
5) Brand
How is your alliance partner's brand perceived in the market? Will it strengthen yours?
6) Importance
How important is the partnership for your alliance partner? Will they (and their future) depend on it?
When establishing a partnership where the future of your company is depending on the partnership while for the partner it is just one of many partnerships, you might be out of balance. So, how important is the partnership for you and what do you expect from your partner?
7) Management
What is the management style of the alliance partner?
A command & control style will bring different challenges to partner with than a collaborative style or a consensus driven management style. These differences will have their impact on the speed of decision making when the partnership is in progress. How important is complementarity in management style for your partnership?
8) Type of company
What type of company is your alliance partner? E.g. a family owned company, a corporation with listing on the stock exchange, a solo entrepreneur.
A family owned business will have different dynamics than a public listed corporate and a again government organization will be different. If you are a startup planning to team up with a corporate you will make managing the partnership easier for yourself when you are aware of the differences in organization and with that in the way decisions are made.
9) Systems & Processes
To what extent are the systems & processes used in your alliance partner compatible with yours?
For many organizations the systems and processes are the ones that define how a company operates. There is no need to have the same systems and processes in your company as in your partner's company, as long as they are compatible and the differences are managed.
10) Culture
What is the culture of the alliance partner and how does it differ from yours?
Think about both company culture and regional culture. Doing business with a partner from a different country or region, will bring different dynamics in operation and management. Some cultures will be quite direct and tell you what they think (it seems that we Dutch people are perceived that way), and in some cultures it will be not done to say "no". It is important to be aware of potential cultural differences in order to be able to manage them and understand your partner.
11) Experience
Does the alliance partner have experience in creating partnerships?
The amount of experience you and your partner have in creating partnerships can make the whole partnering process easier and faster. This applies to both the creation phase as the management phase of a partnership. How important is it for you to have a partner with experience in partnering and are you willing and able to educate the partner in these skills while going forward, if needed?
12) Network
How does the alliance partner's partner network look? Is it competitive, attractive and complementary?
The network of your partner can have a huge potential to boost your partnership when it is complementary. However when your prospective partner is already teaming up with a competitor of your company it might slow down the partnership tremendously and it might hurt the level of trust you will have in your partner.
13) Trust
Do you trust the alliance partner? Do you expect to be able to build trust with the partner?
It is essential for a successful partnership to be able to trust your partner. How trustworthy is your partner, will you be able to trust them or build trust? A firm "no" to this answer might be a clear showstopper to team up with this partner.
14) Portfolio
Does the alliance partner have a complimentary product portfolio, or is your partnership just one of a kind for them without the opportunity to extend?
15) Speed
How do you and your alliance partner align in speed of operation and decision-making?
The classical examples in differences in speed between organizations are the examples of small, startup kind, companies that team up with corporate organizations. The small company will make decisions in the hallways whereas the corporate organization might need at least 3 meetings and still feel they are moving fast. Depending on the type of partnership you are establishing the speed of operation and decision-making is an essential element to assess before creating a partnership.
16) Quality
Has the alliance partner a drive on quality similar to yours?
Do you strive for perfection or is good just good enough? Steve Jobs felt it to be very important that also the inside of an Apple computer was looking great and had high quality expectations also there. Other companies might feel it irrelevant how something out of sight will look: a quality drive that can strengthen each other or lead to disappointments.
17) Intellectual Property
Many large organizations have separate departments to safeguard their intellectual property (IP) and where possible license out the IP to other companies. For these organizations the filing of patents is essential and they will bring the discussion into the partnership negotiations. For smaller companies IP can be equally important, but when not specifically addressed it might be overlooked. Think about it, how important is IP for you and how would you like to see the importance of IP for your partner? Are they known for their battles in court over IP rights, are they playing it nice and is it important in your particular partnership?
A good alliance partner fit assessment will analyse the fit of a partner in these 17 areas, and in some cases perhaps in some more areas. However, not every element is equally important. For some one element is more important than others. Before I mentioned my book "The 4-step guide to successful partner selection" this book comes with a downloadable tool that will allow you to assess the partners and weigh the elements for your specific situation.
Alliance partner selection is an essential element in creating alliances. I would say don't join the mass of people that overlook it and assess your potential partners based on the 17 elements we just discussed. Then you will know where the fit is and where attention is needed during the management phase of the alliance.
---
Books mentioned in this episode:
Subscribe to the Collaborative Business Podcast
Subscribe via iTunes
Subscribe via RSS
Subscribe via Stitcher
Click here to leave a review on iTunes
I greatly appreciate your effort to leave a review. These reviews on iTunes help spread the message and help make more people aware of the power of collaboration! Thank you in advance for leaving one!
---
Previously on The Collaborative Business Podcast:
Click here for a full list of previous episodes
.