Podcast: Play in new window | Download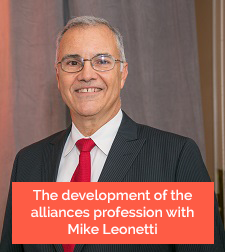 My guest today is a veteran in strategic alliances. Mike Leonetti has an extensive experience in building strategic alliances, especially in the pharmaceutical area. Late 2013 Mike became the CEO and President of the Association of Strategic Alliance Professionals and is now dedicating his career fully to the development of the alliance profession.
Mike explains how a strategic alliance is about to get and to give, a relationship between two or more parties, where all partners assume some level of risk. According to Mike, that's what differentiates a strategic partnership from another business relationship. When a partner is not willing to assume risk, it becomes a general relationship. Another essential element mentioned by Mike is "to make the pie bigger together".
You will hear us talk about the profession and about the roles ASAP can play for alliance professionals, providing them with a community, best practices and education through events and webinars. ASAP is a growing community both globally and on a local level.
Mike shares his experience with a partnership between Boehringer Ingelheim and Pfeizer. He shares how both parties were working together and how from one side it seemed a natural partnership, but from the other side it was the most difficult partnership to get working. Company cultures between the two giants were not naturally compatible and the element of culture is an overlooked element in this partnership. Every alliance Mike has been involved in taught him something new, but this one taught him a lot of cultures between organizations.
Click to tweet: You can get a lot more when growing the pie with somebody who has the capabilities that you don't – Mike Leonetti
Question: What was the most important lesson you learned in your alliances? Share it in the comments below!
Books mentioned in this episode:
Connect with Mike Leonetti
LinkedIn: http://www.linkedin.com/pub/mike-leonetti/5/97a/495
Email: mleonetti@strategic-alliances.org
Twitter: @ASAP_Global
Website: www.strategic-alliances.org
Subscribe to the podcast
Subscribe via iTunes
Subscribe via RSS
---
Previously on The Collaborative Business Podcast: