Podcast: Play in new window | Download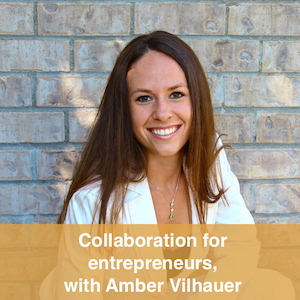 In the previous two episodes of the collaborative business podcast I have been looking forward to collaboration in 2015 with two long time alliance experts. Those insightful conversations looked predominantly at expectations for strategic alliances in the corporate world. In this episode we are shifting gears and looking ahead with Amber Vilhauer into collaboration for entrepreneurs in 2015.
As you will hear, Amber quickly focusses on online as the big enabler for collaboration. Working with a team of 10 people in the USA and South Africa herself, Amber knows like no one else how working online can stimulate collaboration. Testing her on a quote I recently heard on a podcast, Amber sees no real benefits over face to face collaboration versus online collaboration. With the modern day tools we have at our disposal, collaboration can be seamless across borders.
Tune in to listen to this lively conversation with Amber Vilhauer and learn some potential new ways of collaborating online as an entrepreneur!
---
Mentioned in this episode:
Connect with Amber Vilhauer:
Website: ambervilhauer.com
LinkedIn: linkedin.com/in/ambervilhauer
Twitter: @AmberVilhauer
Subscribe to the Collaborative Business Podcast
Subscribe via iTunes
Subscribe via RSS
Subscribe via Stitcher
Click here to leave a review on iTunes
I greatly appreciate your effort to leave a review. These reviews on iTunes help spread the message and help make more people aware of the power of collaboration! Thank you in advance for leaving one!
---
Previously on The Collaborative Business Podcast:
Click here for a full list of previous episodes
.