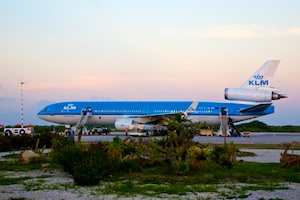 This is a guest article from Donna Peek, Alliance Professional and Senior Program Manager at SAS Institute.
I often say that the alliance manager plays a role similar to an airplane pilot when it comes to managing a strategic alliance relationship. Like pilots, alliance managers are responsible for getting the alliance "off the ground", navigating the partnership through turbulence and weather conditions (changing market conditions, competing interests, conflicting organizational models, competitive threats, etc.), and "landing safely" (delivering the goals of the alliance).
Throughout the flight, we have to get our passengers – internal and external stakeholders (sales, marketing, legal, professional services, etc.) aligned so we can achieve alliance results. During most flights, an airplane will be off course for about 95% of its flight. Similarly, during the life of an alliance, the alliance manager has to work continuously to keep the partnership on course. Alliance management, like fllying looks effortless, but doing it well requires a lot of skill and expertise.
Pilots usually partner with skilled co-pilots to build successful flight plans and coordinate actions during flight. Alliance managers on strategic, complex partnerships also work with a "co-pilot" – their alliance counterpart at the partner's organization – to help build the joint alliance plan, manage conflict, and navigate the partnership.
But what do you do when you are "flying solo" – when you don't have an alliance manager assigned to the partnership from the partner's company?
Determine if you're flying a "Cessna or a Dreamliner".

If this is "Cessna" – a partnership with a start-up or a small partner – it's highly unlikely that they'll have a full time alliance manager on staff. Just make sure the person they assign to work with you on the partnership has authority to make decisions and expect that you are going to have to lead the joint development and execution process. If this is a "Dreamliner", and this is a strategic partnership with a large company, you are going to need a skilled co-pilot to get this thing off the ground. Without one, expect a very bumpy ride.

Build your Flight Plan. 

Weather you're flying a Cessna or a Dreamliner, if you're flying solo you really need to make sure you have a flight plan. Your flight plan, or alliance execution plan is what you'll use to ensure you get to your destination. Without a co-pilot, you'll be doing most of the heavy lifting.

Communicate frequently with the "Control Tower". 

Identify and build strong connections and relationships with executive sponsors at the partner's company. Without an alliance counterpart, you'll might not get a lot of assistance navigating the partner organization and building executive relationships, but it will be critical that you identify executive sponsors and get them connected with their counterparts within your company. You will need to ensure that you understand their interests and that you align the partner plan to support their interests and the interests of your internal sponsors.

Plan for turbulence.

Even under the best of circumstances, alliance management can be challenging work with lots of ups and downs. Good alliance managers always plan for contingencies and identify and manage risk. Flying solo adds another level of risk to the flight, so you'll need to set expectations with your executive sponsors accordingly.
Follow these survival tips and you'll help guide your partnership through friendlier skies!
---
About Donna Peek: A practicing alliance professional who is passionate about alliance formation, management and strategy. Donna has over 30 years of experience in the high tech industry, including over 17 years managing alliance partnerships. Follow Donna on Twitter at @peekalliance
This article was initially published on August 12, 2013 at peekalliance.blogspot.com