Podcast: Play in new window | Download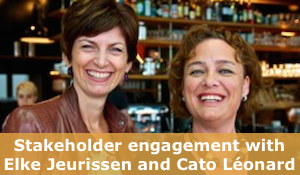 "We need to be aware of the fact that it is a learning by doing process", those are the parting words of Elke Jeurissen in this conversation. Cato Léonard adds to that that we need courageous managers to create successful collaborations with other partners. External collaborations are often outside of our comfort zone, yet that is were we need to go to create successful collaborations that open new roads.
Elke and Cato are partners in Glassroots, a Belgium company that is fully focused on stakeholder engagement. As it is said on their website: "Stakeholder engagement is all about achieving a shared goal, through shared responsibilities and sharp selection of the right stakeholders for your projects."
That is also the topic of this episode of the Collaborative Business Podcast. With examples of their recent project for the City of Antwerp and examples of other projects Elke and Cato highlight the importance of stakeholder engagement.
Tune into the audio only version or watch the video version below.
---
Books mentioned in this episode:
Connect with Elke and Cato:
Website: glassroots.com
Subscribe to the Collaborative Business Podcast
Subscribe via iTunes
Subscribe via RSS
Subscribe via Stitcher
Click here to leave a review on iTunes
I greatly appreciate your effort to leave a review. These reviews on iTunes help spread the message and help make more people aware of the power of collaboration! Thank you in advance for leaving one!
---
Previously on The Collaborative Business Podcast:
Click here for a full list of previous episodes
.