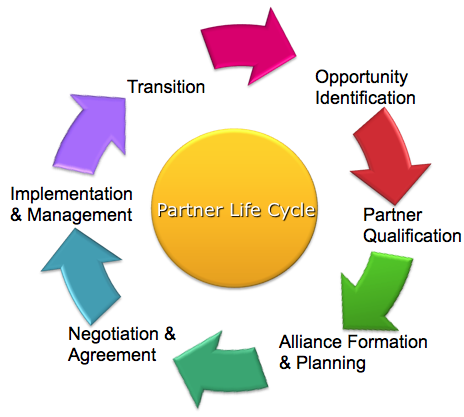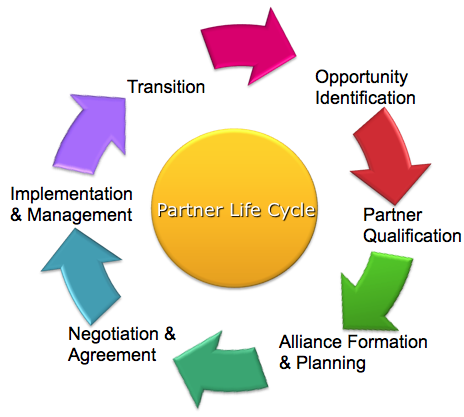 This morning I researched a couple of resources about the alliance lifecycle and noticed that the cycles I found all differ and still are somewhat similar. Quite understandable as every organization will adjust common alliance best practices to their own needs. The lifecycles I found ranged from 5 to 8 main steps. All of them obviously covering the cycle from start to transition. The differences are in most cases in the middle, where some steps are divided over more steps than others. All of them share that the alliance lifecylce is in fact an umbrella: it combines tools and substeps under the umbrella and can thus easily add up to tens of steps.
In our workshops we use the following six steps:
Opportunity identification
Partner qualification
Alliance formation and planning
Negotiation and agreement
Implementation and management
Transition
One of my customers uses a slightly different model where step 2 is split in two separate steps and step 3 and 4 are combined in one step. Also Cisco's model as described in Steven Steinhilber's book is a six step, but slightly different, lifecycle. In some cases step 3 and 4 are in a different order, putting the negotiation before the alliance formation. The 8 step process I noticed is splitting into seperate main steps some of the elements I would probably capture in substeps. This model was also different in the sense that it basically puts governance, executive sponsorship and alliance management as a continuous foundation layer below all of the steps.
In the end all lifecycles more or less follow the same structure, covering the alliance lifecycle from start till transition. How about your alliance lifecycle and processes, do they follow a similar structure or are they (radically) different?