making business collaborations work
Are you looking to create and increase your success in the collaborative business world? As an Executive Coach, specializing in Strategic Alliances, I work with business and alliance leaders from international organizations to help them consistently improve their success with strategic alliances. My motto is "making business collaborations work" and my goal is to help you find practical, applicable solutions to increase your success.
Here are a few ways I can help you:
Coaching & Mentoring
Coaching increases your productivity with 51% to 70% according to a study commissioned by the International Coach Federation. Personally, you will benefit from coaching with improved self-confidence, communication skills, work/life balance, and relationships. Altogether this will lead to better results in your work.
Read more about Alliance Coaching

Read more about the Alliance Mastermind and Group coaching program

Read more about Executive Coaching for Measurable Leadership Growth
Alliance training
The Alliance Masterclass is suitable for your company if you want your teams to have more success in strategic alliances and if you want to establish one common language and way of working among your people in strategic alliances. This will lead to better teams and improved alliance results. The Alliance Masterclass is suitable for you as a participant if you want to increase your success with Strategic Alliances & Partnerships.
Read out more about the Alliance Masterclass
Team Development
In a constantly changing business world, effective, collaborative teams are essential for success. Creating an effective team takes time, yet after the first two days you will notice the difference and going forward you'll experience the real power of your team.
Read more about Team development
Previous experience
The companies and people I have worked for include departments and people from organizations like: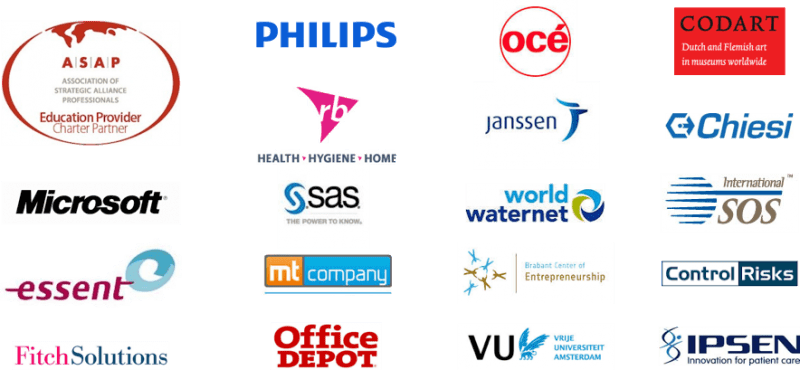 Read more about some previous engagements
Peter has a down to earth (personal) coaching style, with an ability to listen and jointly seek out what really works combined with a subtitle persistence to make sure I acted on my commitments. He was also there to help during minor crises, He is now at the top of my list of true change artists (and friends) now. No hype, just honest help.
Grant Nelson - Cloud Marketing Manager, Europe, IBM
Think about whether you really have set yourself up for success with your alliances. Do all stakeholders follow a clearly defined path? This workshop helps a lot to professionalize the Alliances team and create a common framework for everybody to use.
Tobias Nittel - Director Alliances SAS Institute
Peter really wants to understand your needs, so he can add value where you need it. He asks the right questions that also brought me forward in defining of what I really need.
Manuel Oomen - Director Alliances Philips Lighting
I attended the Strategic Alliance training provided by Peter as a preparation for the Association of Strategic Alliance Professionals CA-AM examination. This training was very thorough, highly interactive and provided an excellent basis for my later success in the examination.
Ian Rothery - Managing Director FitchSolutions
Peter is a very experienced and effective alliance consultant across many industry segments with broad knowledge of deriving incremental value between partners and throughout all facets of business (commercial, supply chain, etc). Peter is very personable, responsive, and has been a pleasure to work with.
Graham Mott - Sr. Director M&A Philips Health & Wellness
I experienced Peter as an excellent and accessible trainer with expertise in alliance management, extremely helpful to trainees and as a gentle and warm person.
Hans Ulrich Reitzel - Associate Consultant Integral