In yesterday's post we looked at the ASAP Certification program and how it is constructed, now let's Today have a look at what actually will be tested and what the exams are like:
What does Certification Test for?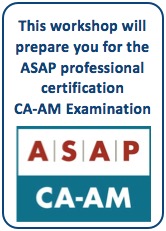 The Certification exams were developed from a compilation of alliance management capabilities and competencies. The full range of alliance management competencies have been documented by ASAP in the Professional Development Guide which includes:
Core Competencies: These competencies are unique and specific to alliance management such as alliance governance and organizational alignment.   It is a subset of these competencies which are addressed in the CA-AM exam, specifically the skills required to manage an operational alliance vs the full lifecycle. The CSAP exam tests for the full range of core competencies.
Contextual Competencies:  These competencies are important to performing the alliance management function but are not specific to alliance management. These include skills such as project management, leadership, communications skills, and financial management.
Company Competencies: These competencies are specific and unique to each company such as understanding the market, products, competition, the organizational structure and strategic imperatives of a specific company.
While all these skills and competencies are necessary to perform the job of alliance management, the Alliance Professional Certification specifically tests for alliance core competencies.
What are the exams like? 
The CA-AM exam is comprised of 85 multiple-choice questions and takes approximately 90 minutes to complete. The test is delivered on-line, through a web interface.  Registrants are sent a unique identifier and password to take the test.  You do not have to complete the test in one session. You may log-off and log back in to complete the exam, however you must complete the exam within 30 days of receiving a test ID.
The CSAP exam is comprised of 150 multiple-choice questions and takes approximately 2-1/2 hours to complete. The CSAP exam is a proctored exam, administered at secure test centers in major cities across the US, Europe, North Africa and Asia. You register on line to schedule for a test date.
The Detailed Content Outline or test specification for each exam specifies how many questions are allocated across the various competency areas and to what cognitive level or level of understanding the questions are directed.
In summary:
Recall cognitive level: Remember a fact or attribute
Application cognitive level: Apply a principle, identify an issue
Analysis cognitive level: Solve a problem, select an appropriate course of action
Questions are typically very situational and task oriented, i.e., they will draw more on experience and judgment than on theory or memory.
You must select the "best' answer out of three multiple choice options.   Again, because the questions are situational, any one of the options may fit a certain situation, but only one answer is considered 'best' for the situation described.
There are no throw away options. Options are written so that a less experienced alliance manager may select the inappropriate option.  Many common mistakes that an inexperienced alliance manager, or for that matter, some senior executives might make are included.
In part 3 we will look at who is already certified and how one can prepare for the exam.
Professional Certification in Alliance Management – part 1