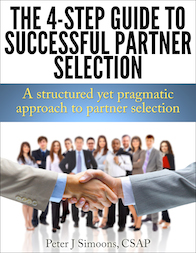 After having set the strategic rationale for your strategic alliance it is time to look deeper into partner selection in strategic alliances. A regular approach for partner selection is to start with creating a short list. What to look for in creating such a list?
Partner selection in strategic alliances: the long list
The first thing to do is to create a list of conditions a partner need to comply with. This will help to determine the ideal partner. Then it comes down to search and create an initial list. Google will be helpful if the area you are searching is unfamiliar to you. There may be other sources that can provide additional input too. These may be paid services or people from your network. LinkedIn is helpful to search your network. See if you have connections that may provide you with more background information on a prospective partner. But remember that you have not approached the partner yet. You may want to keep information gathering a bit confidential in order not to wake up potential partners or competitors.
Partner selection in strategic alliances: the short list
After having created a list of partners that apply to the conditions in the initial list and as such are on your short list it is time to nail the list down to an ideal partner list. Selecting your partner will have a huge impact on the success of a partnership. How well does the partner fit with your company? Here you should research elements like strategic fit, operational fit and relationship fit.
Strategic fit basically answers the question how well a partner aligns with your strategic goals as described before. You will need to have a look at the partners product portfolio, market share and financial performance. Make an assessment on the element of how important the partnership would be for this company if they were to become your partner.
Assess your options
Operational fit will need to look at the operational elements of your partner. How do they do their business, what is their management style? Another element to look at is their fiscal year. Depending on the type of partnership you are looking for, the fiscal year may have a strong influence on the partnership performance. For example if you are looking for a sales partnership and your fourth quarter is not in line with your partner's fourth quarter you may be working extremely hard to make the quarter while your partner is more or less on holiday.
The same applies to budget availability for other kind of partnerships. Budgets may be tight in the fourth quarter and while you have the ability to move forward your partner may be constrained by budgets. The fiscal year is not necessarily an element to turn a partner away for, but if not in line it is an element that needs attention in the management phase of an alliance.
Relationships matter
The third element, relationship fit, will need to assess cultural fit. This can be a showstopper for the proposed alliance. In case your company is a public company and your partner is a family owned company there may be a conflict of cultures. The same applies to the size of the companies. Partnering between a large public company and a small startup will bring different cultures with their own dynamics. Culture does not have to be a showstopper, culture more defines points of attention for the alliance management phase.
A part of relationship fit is also to determine network fit; if the prospective partner already has a partnership with one of your competitors it may not be the best choice for you for a partnership. Also have a look at the potential impact of the partner on your other alliances. The new partnership may impact them in a positive way, or in a way that needs more management attention from you.
Rank them
When having determined all these elements for your prospective partners you will be able to rank the partners and create your shortlist. Now it becomes time to approach number one on the list and explore their interest for a partnership. When it does not work out with number one move on to number two on your list. There may after all be elements that could not foresee in your preparation. Some things only become apparent when talking to the partner, or possibly the company has no interest in a partnership.
Make sure in this phase to select your partner on rational terms rather than emotional terms.
The 4-step guide to successful partner selection in strategic alliance will be a helpful tool in the process of partner selection.
Further learning
During the Alliance Masterclass we will discuss partner selection extensively and also explore how it is applicable to your situation.