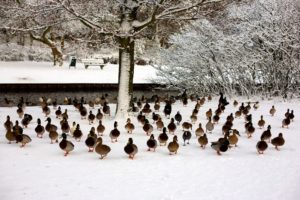 This year many of us thought winter had decided to forget about the Netherlands. We were already thinking about spring and even nature seemed developing that way. Many flower buds were already growing faster than they should late January. Until last week, when winter surprised us with a visit, at first with freezing temperatures and this Friday followed by 10 cm of snow during day time. For many 10 cm may seem nothing for us it is a lot. Our country was confused, trains stopped, flights were cancelled and Friday ended up in the top three of longest traffic jams in the Netherlands ever. It seems that somehow we always allow winter to surprise us and never seem to be fully prepared for winter to arrive.
So what happens when winter comes to visit your alliances?
Strategic alliances can have their wintertime too, communication goes sour, the project stalls, your partner seems not to be happy or you may feel your partner does not live up to expectations. Symptoms of winter in your alliances and in some cases winter can be severe and the alliance is destined to freeze up.
Like winter you can prepare for bad times in alliances. Unlike winter however, in alliances you may be able to turn the bad tide and prevent winter to arrive. As long as you are keen on the symptoms, have both a clear measurement and management system in place for your alliances. A measurement system will help to monitor your alliance and provide early warnings when adjustments are required, a management system will help to set the right path and continue on it. It will also help to decide upon and communicate adjustments when needed.
Are you prepared to keep winter out? Call me or use the contact form to discuss how you can turn the tide and keep your alliances healthy.


This is the main text of the February newsletter. When interested to receive this newsletter directly into your inbox you can subscribe in the top right corner of this page.