Somehow it seems that every week has it's own theme. Last week started of with a few conversations where the word "focus" claimed the conversation. Monday evening the focus shifted to books; alliance books to be precise!
That evening I recorded an interview with Ben Gomes-Casseres about "Remix Strategy", his new book that was released last week on September 1. It was a very lively interview where Ben used some old fashion techniques to visualize the three laws he describes in his books.
Being raised in the beautiful island of Curacao, Ben also took the opportunity to practice his Dutch for a few moments. Don't worry if the Dutch language is not your thing: 99% of our conversation is in English! The interview will go live in the Collaborative Business Podcast and on YouTube on Thursday September 10.
Last Thursday Xerox' Vice President of Worldwide Alliances, Russ Buchanan, was my guest in the Collaborative Business Podcast. In this conversation we dived into alliances at Xerox and explored how Russ built his experience initially in the services business of Xerox, which is now being extended onto the corporate level of Xerox.
In the interview with Russ it almost looks like we agreed upon the book recommendation Russ brings in the conversation, but we did not. Russ refers to the upcoming podcast with Ben Gomes-Casseres, when he recommends Ben's new book "Remix Strategy" as a valuable source for business and alliance people.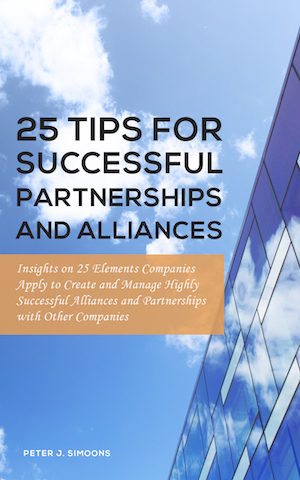 Remix Strategy is Ben's third book and as the focus of the week was around alliance books, it also happened to be the week that I released my own third ebook. In this new 76 page ebook I have taken the 25 tips that you might be familiar with and written them out extensively. As such, it is the full and unabridged version of the summary ebook that many of you downloaded when you registered for my weekly newsletter.
The title of the ebook might sound familiar: "25 tips for successful partnerships and alliances". However, the content is only similar in the sense that they are the same 25 tips, but this time extensively written out for you to create even more success with your partnerships and alliances.
You can acquire my third ebook here. The book comes in a zip file with three formats: EPUB, PDF and MOBI, so that you can read it on every device!
Looking forward to your feedback on my third ebook!
Enjoy your week!