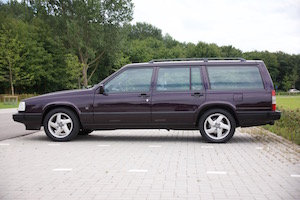 You probably know that I have a thing for Volvo's. I'm actually driving my 14th Volvo: a '98 Volvo 940 Estate. You know the type: those box shaped station wagons. Some call them bricks, and that's meant as a compliment!
I'm also a member of an association that represents people with the same "deviation" for these Volvo bricks. Last Saturday we gathered for a special membership meeting as the association was suffering from a management crisis. Long story short, the crisis was caused by a mixture of lack of trust, lack of communication and cultural differences between the management members.
Yes, Volvo people are just normal people too! So I offered the association's newly assigned interim management team my help. After all, collaboration in management teams is very much like collaboration in partnerships between organizations and I happen to know a lot about that!
Trust, communication and bridging cultures are the cornerstones of any collaboration.
Last week you've read about my new ebook and the extensive descriptions it contains about the 25 most essential elements for successful collaboration in partnerships: Tip 20 is about trust, Tip 17 about communication and Tip 8 about bridging cultural differences.
Now, I'd like to take that conversation a bit further: I'd like to work with you on this!
Do you want to grow your business, re-ignite your partnerships, create clarity on the next steps with your partnership program, establish new partnerships, take of the burden of managing existing partnerships or do you want a sparring partner?
I have worked one-on-one with small business owners, alliance professionals, CEO's and with groups in multinationals and collaboration is the common theme. The same strategies that work for the large corporations, work for small businesses as long as they are rightfully adjusted. These same strategies will work for you as well!
Here are a few ways how I'd like to help you:
Through personal mentoring: we'll work one-on-one focussed on your success
By providing collaboration catalysts to perform your outsourced or interim alliance management
By use of my network to create introductions and connections that work
Let's explore: contact me for your complimentary call to discuss!
To your success!