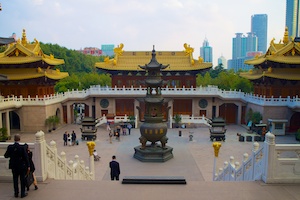 The past week has been a great learning roller coaster for me. Traveling to Singapore and Shanghai showed me two completely different cities in Asia. Cities that are different in vibrance, dynamic and culture and are certainly also different in the way they are organized. They are different from each other, but also different from other cities I have seen in the countries I have visited so far. It was a fascinating experience to get a quick flavor of these two cities and it made me regret not having scheduled more time, as there is so much more to explore.
I was in Asia to deliver a series of in-company alliance management workshops, which was a great experience. In these workshops I have also seen some interesting differences. Trust, culture and communication are essential elements in the creation of successful alliances. Discussing culture in a workshop in Asia brings different elements to the conversation than discussing culture in Europe or in the USA. Culture did came back a couple of times in all the workshops. Especially in China it became clear that culture drives how people view the importance of trust in a relationship differently than people in western countries. Performance and results come first and trust comes second, whereas in western countries we work hard to build trust and the results in our alliances will follow afterwards.
Regardless of the location, communication is a universal element that in every workshop comes to people as one of the most important learning points. In tip 5 I already wrote about the importance of communication. In my workshops we always discuss tools and techniques to improve communication and in all cases I emphasize the importance of communication: make sure to communicate, communicate, communicate and when you think you have communicated sufficiently, communicate again. There are always stakeholders who have missed the communication.
Are you interested to explore what an in-company alliance training can do for your organization? Contact me to discuss: there are only a few options left in my 2013 schedule!
I already mentioned tip 5; a few months ago I wrote an article with 25 tips for successful strategic alliances and the article also appeared as a presentation on Slideshare. They both created a lot of responses that made me write out every tip into a short article and publish these articles one by one on my website. Last week tip number 15 of 25 has been published. You can read tip 15 here and below every tip-article there is a link to the other published articles in the series.
As always I am looking forward to your responses and in this case I am also interested in hearing about your experiences with global, cross cultural alliances.
Have a great week!