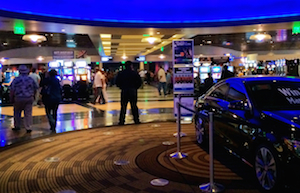 Arriving at my hotel last week, I was caught by surprise. I wondered, is this a hotel or a casino, or is it me after 18 hours of travel? It turned out that I was at the right location and the hotel lobby was hidden in a little corner of the entrance. I just entered the location of the ASAP Global Alliance Summit.
Even though the conference hotel also appeared to be a casino, the only correlation between alliances and gambling is that most people who gamble with their alliances will end up with failing alliances. The same applies to most casino gamblers: most of them leave the casino with less money than they had when they arrived.
That is also where the correlation ends. A lot can be done to create a foundation for successful alliances by following the right methodology and using the right tools. As far as I am aware that does not apply to the gambling game in the casino.
Collaborative Economy
Professional conferences are in general the place to learn about new developments. However, for me the most intriguing new development of this week was not discussed in the conference, but on the day before the conference during lunch with a colleague. We discussed the "collaborative economy".
This is what Jeremiah Owyang writes about the collaborative economy: "In the growing Collaborative Economy people fund, make, and share things with each other, rather than buy from inefficient corporations"
People start to share their assets like cars and spare rooms with other people who need them. New companies offer a marketplace for people who would like to participate either by sharing or using assets. Examples include AirBnB to find and share accommodations around the world and Zipcar and Snappcar for sharing cars.
Competition
According to Jeremiah Owyang, every properly shared car is impacting the established car industry by a missing of USD 270000 of revenue, representing the sales of 9 cars. With that calculation he still leaves the missed revenue for maintenance, spare parts, carwash etc out. By collaborating in this innocent looking development, people are creating a big disrupter for existing companies. Collaboration becomes the new competition. 
This development that started with people sharing their assets now continues with companies like BMW, Toyota and MercedesBenz offering sharing models for their cars in urban areas. Thus channel conflicts arise as the car manufacturers become competitors to car rental companies.
Your company
These new business models will affect your company as well. Jeremiah Owyang has created an initial list of over 70 initiatives where brands and corporations are involved. These initiatives include all kind of initiatives like car sharing, computer sharing and office sharing. The list covers many partnerships of companies who are teaming up to be part of these new business models.
Sooner than later the collaborative economy will reach your business too. Are you going to wait and gamble that it will blow over or are you proactive?
To stay relevant with this unstoppable trend, every corporation must evaluate a business model of products as a service, marketplaces, tapping the maker movement and crowd collaboration as market behaviors shift.
Jeremiah Owyang
How are you going to adjust your strategy and your alliances to stay relevant?
---
Additional reading on this topic: