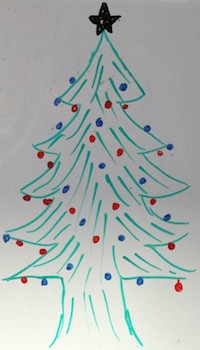 It is almost Christmas and we are nearing the end of 2013, a year that flew by in a very fast mode. I hope you have enjoyed it and that it was a good year for you too!
When I look back to 2013 it is a year of building and learning with some great highlights. One is obviously my Camino to Santiago de Compostela. A great experience in which I was blessed to walk all of the 900 km without any blisters or other injuries. My biggest lesson of this Camino is probably best captured in my encounter with David. The Camino is a great experience that I recommend to everyone. Next time (yes, I will walk the Camino again) I will plan a bit more time to enjoy the experience even more.
This might also be another lesson to take forward when looking back to 2013: allocate more time. My trip to Asia to facilitate workshops in Singapore and Shanghai brought a lot of learning and a great experience as well! However, I should have allocated more time and include the weekends as part of the trip to explore more of these amazing cities.
Another 2013 highlight was the start of the Collaborative Business Podcast: Episode 5 launched just last Thursday. This conversation with Natalie Sisson shows how this entrepreneur can combine a fully traveling life with running her business. You probably already guessed it: Natalie can only do so thanks to smart collaborations with her team and business partners.
Are you ready for the new year? I am! In 2014 I will continue teaching and coaching to help my clients to "make Partnerships and Alliances simple". Creating alliances will never be easy, but, to freely quote Albert Einstein, it is my mission to "make alliances as simple as possible, but not simpler".
The first element in 2014 to fulfil this mission is the online Alliance Mastery Academy. Registrations have opened last week with some very attractive special pre-launch prices. The Academy will launch on January 15, opening up initially for the charter members only who signed up during pre-sale.
A second event in the schedule is a new Alliance Mastery Masterclass, that is planned for April 3 and 4. This two day learning event will be an intensive hands-on masterclass covering everything you need to successfully create and manage alliances. This class will be blended with practical experiences and ample networking opportunities. A must-attend event that will be held in a unique location in Amsterdam! Pencil it into your schedule; more information will follow in January.
Often when my whiteboard is empty my daughters leave me a message or a little drawing. This time Emma left me a Christmas tree; a nice reminder that connects the daily busy business life back to the family.
Have a great week, I hope you can make time to take a little step back this week and enjoy a fabulous Christmas time with your loved ones!