It was a warm Sunday afternoon and the streets of Rome were filled with all kind of tourists who meekly followed their guide. They'd all come to visit and behold the legacy of the city's leaders that left their marks across centuries.
I was in Rome to attend IACCM's EMEA Conference. Together with Mirjam Ros from Airbus Defence and Space Netherlands, I would present on Tuesday about the question "Innovation, Collaboration and Intellectual Property: can they coexist?" (download our Sketchnote handout here).
On that warm Sunday afternoon, the day preceding the start of the conference, I did some sightseeing of my own. After all, one can't just be in Rome and not sniff into history! In barely 4 hours I strolled through the historic city; from the Vatican via the Piazza Navona and the Forum Romanum all the way to the Colosseum.
In Tuesday's keynote speech, after Mirjam and I gave our presentation, Pat Chapman-Pincher guided the audience through the transformation of leadership. Pat linked back to the historical leadership in Rome, a place where a lot of leadership began. Then she highlighted how machines had changed leadership. Subsequently there was a wake up call to the audience: we are in the fourth industrial revolution and the use of more technology will lead to fewer jobs and requires a new kind of leadership.
Most organizations are still build on top-down leadership, yet in the changing economy we need leadership on every level. Top-down leadership can not survive on the battlefield and probably also not in today's business world. Leadership is a teamsport and needs to be available on every level of the organization.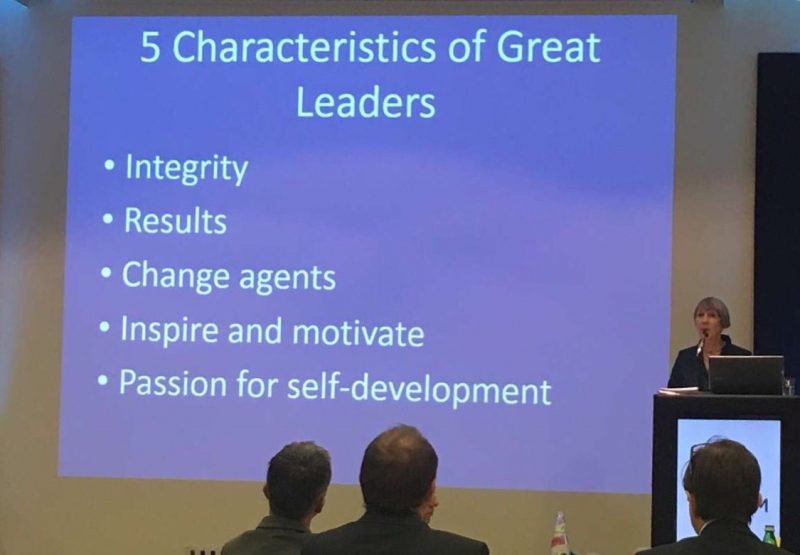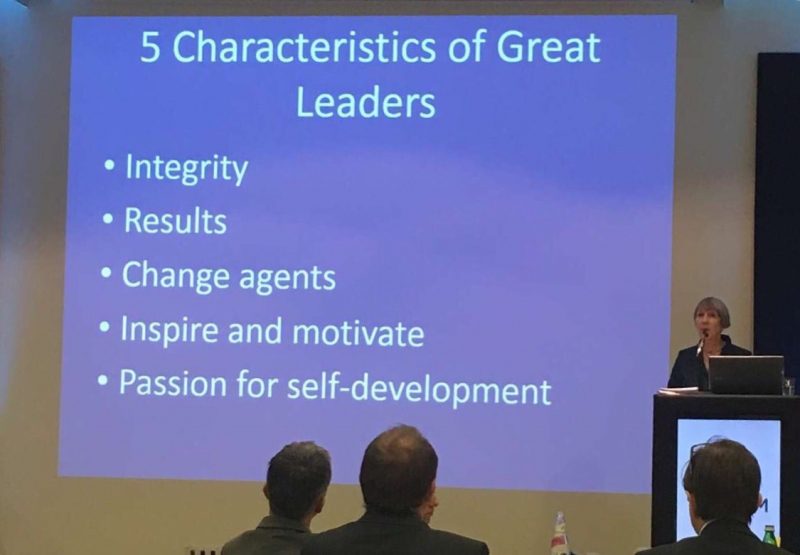 Pat shared the 5 characteristics of great leaders, being that great leaders:
are honest; they have integrity
focus on results, they are flexible and not obsessed with the process
are change agents, they embrace and do not fear change, they focus externally
inspire and motivate, they are collaborators, not competitors
have a passion for self development
Leaders are made, they are not born. To be a great leader in your field of work, you need to constantly develop, you are never done. As Pat said: all leaders are work in progress, no leader is a finished product.
In a collaborative business world no one can go it alone. Leadership is a teamsport, we recognize this also from the Stakeholder Centered Coaching methodology for both leadership and team development. Leaders are rated as becoming dramatically better leaders when involving stakeholders on a consistent basis in their development.
Some actionable food for thought for you for this week. First, look at the 5 characteristics of a great leader and answer the following question for yourself: "How good am I as a leader according to these five characteristics?" Then, when you are ready to take it a level deeper, assess yourself against these "twenty ineffective (unrecognized) habits of successful leaders".
Now think about it: Where is your next area for leadership improvement?