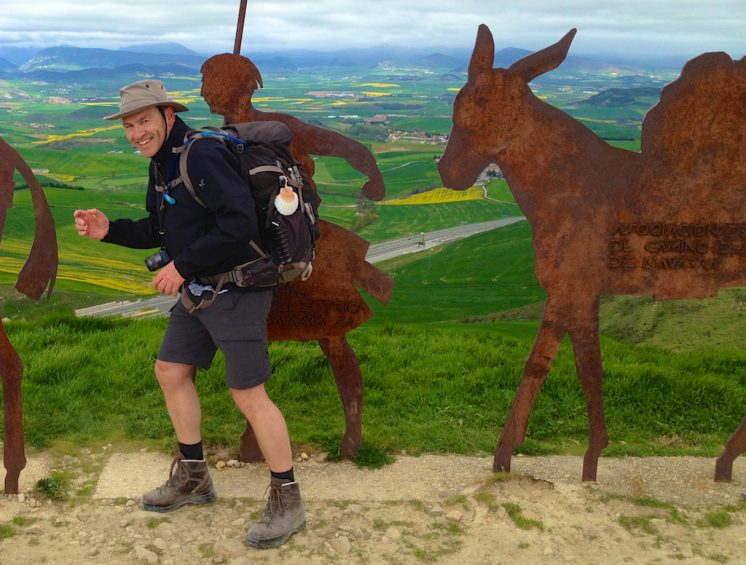 If you are following my blog already a bit longer, you will probably know that I walked the Camino to Santiago de Compostela last year April. All together it was a 900 km walk that took me 28 days.
The Camino is more than just a long, multiple day, walk. It is an experience where you meet many people who all share the same goal in walking to Santiago. People from every walk of life and from everywhere in the world. With some you walk for a few days and some you only see for a moment, while others you somehow see every night in the hostels.
The Camino is certainly not a walk in the park; it asks for perseverance and persistence, it can be tough, it's definitely beautiful and it is a great experience.
The Camino also creates a bond. Last week I was introduced to Thomas, a fellow pilgrim who walked the Camino this year. I met Thomas for the first time on Friday and it felt as if it was not the first time at all. Our common experience on the Camino created that instant connection and it was a perfect foundation for a fruitful conversation: about both the Camino and work.
When you are considering a partnership or a strategic alliance, a common background will help create a bond. Like minded companies with shared values and culture will work easier together than completely different companies.
I have seen many partnerships in practice that have striking similarities with this case study. Especially when Davids and Goliaths try to work together, they often tend to overlook the differences. Then over time the going gets though when the partnership is hitting rough terrain.
When you reach such a moment it is time to assess where the shoe pinches. On the Camino a pinching shoe will lead to blisters. Walking with blisters can be done, but for many it is a painful experience. Better is to take measures, plan a day of rest or tape the blisters to prevent them from getting bigger.
A blistered alliance will be tough and painful to manage and results will be hard to achieve. It is time to take a step back and try to take an objective, non-involved look at your partnership to assess what needs to be done to get you back on track with your partner.
Many things can be done to prevent an alliance from going sour. A good preparation is half the work and a solid partner selection will teach you the common grounds and differences with your partner. When knowing these you can work accordingly during the design and lifetime of an alliance. A periodical healthcheck will help you stay on course, like the yellow arrows guided me during my Camino.
How are your partnerships and alliances doing?
Are they a walk in the park or is it time to assess the pinching elements before they turn into blisters?