Many of the examples of strategic alliances that are widely available are the examples from large organizations. Also in this blog we discuss for instance elements of the Senseo alliance between Sara Lee and Philips and I mentioned the Novartis Malaria Initiative. When you start searching for alliances in Pharma or in IT you will be able to find many large organization examples. Small business examples are more difficult to find, often probably also because small businesses do not have the budgets to create PR around their alliances like the large companies do. So let's have a look at an example very close to my heart:
A small business example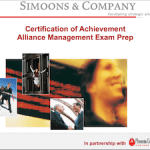 When I started as a solo entrepreneur I set up Simoons & Company in the format of what I called a network organization. Basically the company exists of myself and a virtual assistant. However some projects ask for a larger capacity or different expertise. For that I work with some trusted partners in a strategic alliance that I can hire as partners in a project. With a few the level of collaboration goes a bit deeper and we do our own sparring on proposals and joint business development. There is one partnership that I would like to highlight here that goes deeper and can be seen as a small business strategic alliance.
Following the alliance lifecycle
Back in 2010 when I was planning to bring alliance management workshops to the European market I made the strategic choice to partner and not to develop it myself. Basically step 1 of the Alliance Lifecycle. I did my research on potential partners (step 2) and established a partnership with Phoenix Consulting Group in California to be able to deliver the alliance management workshops they already had developed in the European market. The value proposition entailed that Phoenix gained access to the European market without the need to build it by themselves. I gained access to an excellent set of workshops for alliance management certification. Customers in Europe gained easier access, without the need for extensive travel, to alliance management workshops that would prepare them for the professional certification in alliance management.
We discussed how we wanted to approach our alliance (step 3), negotiated a contract (step 4) and started to work (step 5). As we both are small businesses the steps were on the lighter side than they will be with large corporations and with large alliances. However we followed the alliance lifecycle and made sure we made solid decisions. After two years into the alliance both parties are still happy with it. What started as a knowledge transfer and market development alliance is strengthened into a closer collaborative relationship where we have done joint delivery of workshops and are now finalizing a joint developed next educational product that will soon be launched.
My ebook "Successful Partnerships & Strategic Alliances" provides a more in-depth introduction about creating and managing partnerships and alliances.