Last week I wrote an article about new developments and people's reaction to them. I used amazon.com as a longstanding example. An online bookseller that has been underestimated by many and as we all know, is much more than just a bookseller at the moment. The article was in particular about the Collaborative Economy, how it changes the markets and what opportunities it brings.
Amazon will probably be seen by many as the driving force behind changing the bookseller market over the past decade. What many might not know, is that Amazon also makes it very easy for writers to self-publish books. Through their Kindle publishing platform it is a breeze for writers to publish their books worldwide.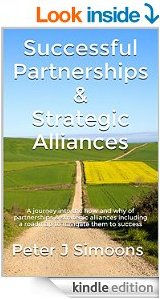 So I went through the process myself and shortly after registration with Amazon and uploading my ebook it was published. The next morning I received an email that my ebook is now available in all Amazon stores across the world! Which means; I am a published writer!
From now on you can conveniently read the extended version of my ebook "Successful Partnerships & Strategic Alliances" on your Kindle. Click here to find out more! In case you don't own a Kindle you can still benefit from all the advantages of reading Kindle books. Follow this link and download a Kindle app, available for almost every device!
Reading is still one of the most important sources to stay informed and learn about new developments. However, it can consume a lot of time. Learning speed reading will help you to save that time! With the right speed reading techniques you can actually double your reading speed and thus save time on your must-read material and create time to read more, or do other useful and fun things.
The e-learning speed reading course will help you double your reading speed and raise your comprehension levels by an average of 154%. This course is developed by speed reading expert Mark Tigchelaar. Read all details here and start saving time on your reading within only two hours!
Have a great week!
PS: Keep an eye on my Kindle Author page, more titles related to alliances and partnerships will be following shortly.