Description
Two days that will change the way you work with alliances – forever.
The world's only hands-on masterclass that gives Alliance Professionals and teams structured, tried-and-tested methods for creating successful alliances and partnerships.
---
The Alliance Masterclass in Amsterdam is a world class opportunity for you to improve your alliance skills and pragmatically apply them to your work.
This open enrollment masterclass is based on the skills and competencies determined by the Association of Strategic Alliance Professionals (ASAP) as critical to the success of collaborative business relationships.
Over the past years this class has been facilitated to over 700 alliance people around the world. The average appreciation for the class is rated by the participants with an 9.08 
Two essential key elements of the format of the Alliance Masterclass:
We will blend theory and practice in such a way that what you learn in the Masterclass can immediately be applied in your work.

We challenge you to think "outside of the box". By that you will have the opportunity to take a step back and look at your own alliances and business from a distant, outside, view. You will discover areas for improvement of personal skills and improvements in your alliances that you won't be able to discover "inside the box."
---
How the Alliance Masterclass can help you
60% of CEOs recognise Alliances as a path to strategic growth.
Their typical failure rate is over 50%.
When you become a masterclass student, you get instant access to all the tools and methods you need to win complete control of your partner relationships. With our help, you can overcome all your major alliance and partnership challenges.
Struggling to select the right partners?
Not sure how to accelerate partnerships to create rapid growth and synergy?
Missing a common alliance framework for everybody to use?
Need to restore trust in relationships gone bad?
Facing a decline in market position or revenue without strategic alliances?
By simply investing in two days of your time, you will walk away with a complete toolkit that is ready to implement in your organisation immediately.
---
Who are we?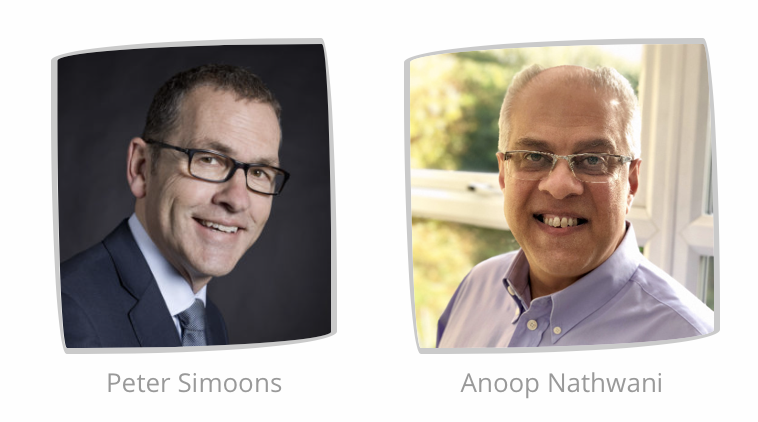 We're Peter Simoons and Anoop Nathwani, two corporate alliance specialists turned mentors who share more than 50 years of experience between us.
Over the years, we have seen so much confusion and poor advice within the area of business alliances, and we eventually got tired of seeing professionals struggle with the burden of building strategic partnerships without the right tools, methods and support.
That's why we created the world's first Alliance Masterclass, a two-day concentrated workshop where we share all the hands-on advice and guidance you need to take your partnership strategy to the next level – and reap the rewards.