Wouldn't it be nice to have a crystal ball that tells us all about the future? Or not? Maybe it is not so nice to know exactly what is going to happen, good or bad. There will be no surprises anymore!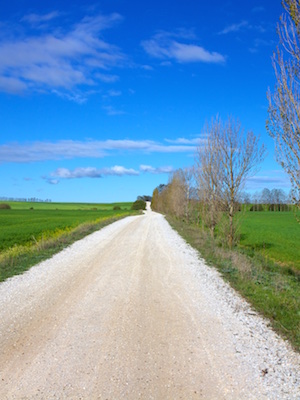 I think it is good that we can't predict the future. Now we do have surprises, both good and bad. We think we know what is up on the horizon, but the horizon will look different when we get closer due to all the new experiences we have experienced along the journey by then.
Still it is good to look ahead, not to predict, and to do some planning for the things you want to happen.
Last week I wrote about my reflection and 2015 goals and I received some great feedback from you. Now let's look ahead to some of the supporting elements I plan to use to accomplish those goals:
This year the Collaborative Business Podcast will be theme based. Every month will carry a theme that will guide the conversations with my guests. For January the theme is Looking Ahead and for February it will be Personal Leadership. All themes will of course be in the light of working in the collaborative business world.
Last Thursday the last traditional podcast went live, with Nick Loper as my guest. In this episode we are discussing the lessons Nick learned during his seven years of entrepreneurship; how he works with partners, how he outsources to virtual assistants for continuous collaboration and how he outsources smaller – one of a kind type of – tasks to other people.
Next Thursday, Jan 15, I will look ahead into 2015 together with Anoop Nathwani. We will have an open conversation about the two trends Anoop expects to rise this year. Anoop uses some examples from alliances that are created in 2014 to underpin his expectations.
January 22 Ben Gomes-Casseres will be my guest and without knowing about my conversation with Anoop, Ben uses one of the same examples as Anoop used to underpin his expectations. Are we on to a trend here?
On January 29 I will be in conversation with Amber Villhauer about collaboration for entrepreneurs in 2015.
February is the month to dive into Personal Leadership for the collaborative business world. What is it, why is it important and what kind of personal leadership do we need at what levels in a business collaboration? These are a few of the questions that can come forward in the conversations. I am still working on the guest list for February and have a few places left. If you are interested to be among one of the guests, please send me an email.
March will be about Stakeholder Management. I have more themes in mind for the remainder of the year, but please do let me know: what themes would you like to learn more about in the Collaborative Business podcast this year?
In May and September I will be out on the Camino for a week, while coaching leaders for the collaborative business world.We will walk approximately 100 kilometers to Santiago de Compostela while in the mean time the participants are being coached in their personal development and personal leadership. Walking the Camino is an essential part of the program for reflection and awareness. The program is already receiving a lot of traction!
With these supporting elements in place, combined with a new collaboration in the making and already a decent booked first quarter, I think I am off to a good start to achieve my goals in 2015.
How are you doing after one week into the year… Are you keeping track of the progress? Do you work with an accountability partner? There are many questions I would like to ask to help you achieve your goals in 2015, but I'd better ask them personally rather than in a newsletter. So if you are up for it, click here to contact me for a complimentary call about your 2015 plans and progress.
Enjoy your week!
Peter
PS: there are a few things that you can do to help me reach my goals of having a direct and lasting impact on the personal success of 40 people by working one-on-one and to the success of another 160 people through facilitating workshops:
I will appreciate it!
---
The arriving scene of Pilgrims on the Camino arriving at the Cathedral in Santiago de Compostela: